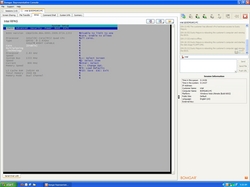 We were the first service provider to offer premium remote technical support services using Intel® vPro™ technology
Ridgeland, Miss. (PRWEB) February 4, 2010
Bomgar, the remote support solution for leading service providers and enterprises worldwide, today announced support for Intel® Remote PC Assist Technology (Intel® RPAT). Intel® RPAT is available on the Intel® vPro™ technology platform, which is built into many new business PCs. By combining RPAT with Bomgar's remote support software, IT organizations, such as online technical support service leader PlumChoice, can provide deeper levels of assistance to both end users and troubled systems.
PlumChoice has used Bomgar's platform to securely connect to multiple computers and devices for on-demand, remote desktop troubleshooting since 2008. The Bomgar/Intel® RPAT integration allows PlumChoice to improve support productivity, using Bomgar's call escalation features to seamlessly flag more severe technical issues that require below the operating system (OS) level assistance.
"We were the first service provider to offer premium remote technical support services using Intel® vPro™ technology," said Rich Surace, senior vice president of operations, PlumChoice. "Bomgar's deep level of customization has been a tremendous asset for us and the new integration between Bomgar and Intel® RPAT allows us to unify our remote capabilities to more efficiently support nearly 99 percent of all technical issues."
With Intel® RPAT, and a PC with vPro technology, a user experiencing PC problems where the OS, network software, or applications are not functioning simply enters a keystroke sequence to connect the failed computer to a technician via an encrypted connection over the Internet. The IT technician can then utilize Bomgar's productivity tools to get a handle on the issue quickly and provide improved levels of customer service and technical support.
"Intel® Remote PC Assist Technology expands the scope of support service providers can deliver to their customers on a remote basis," said Mike Reed, general manager for Intel® Remote PC Assist Technology. "Bomgar's unified remote support solution enables service providers, like PlumChoice, to improve and enhance the productivity of their support teams to help deliver high-value remote services to their clients and address even the most challenging problems."
Bomgar is an appliance-based remote support solution that allows technicians to be in more places and on more systems than possible with on-site or phone only support. The technology is purpose-built to arm IT technicians with the online tools to diagnose and resolve incidents faster and improve service levels. Using Bomgar, technicians can remotely view and control the screen of any device, anywhere—whether behind or outside the firewall. Bomgar provides the most comprehensive set of security features to protect the integrity and security of your systems and data. It also includes integration with BMC and HP service management products and reporting features that help businesses comply with regulations such as PCI, SOX, HIPAA and FDCC.
About PlumChoice
Since 2000, PlumChoice has become the nationwide leader in providing trusted remote technical services for the home, home office and small business primarily through business partners. PlumChoice leads the industry in technical innovation and integrated services, giving customers affordable solutions to their technology problems anytime, anywhere. Through its exclusive SAFElink™ Enterprise platform, PlumChoice offers comprehensive, flexible service options (one-time, per-minute and subscription plans) on personal computers & laptops, networking, software applications, printers, peripherals, MP3 players, digital cameras, smartphones and other mobile devices, and more. PlumChoice is trusted by more Fortune 500 companies than any other provider. Its team of U.S.-based, 100% industry-certified agents is available 24/7/365. PlumChoice's Partner Go-To-Market program helps business partners come to market rapidly and grow revenue quickly. The company offers specific integrated programs for Telcos, ISPs, manufacturers, retailers and e-tailers. PlumChoice services are also available online and in-store through many telecommunications service providers, retailers and software manufacturers, as well as many other partners. For more information, visit http://www.plumchoice.com/partner, call 1-888-PLUM-HELP (1-888-758-6435) or send email to sales(at)plumchoice(dot)com.
About Bomgar Corporation
Bomgar Corporation specializes in appliance-based remote support software. Bomgar allows companies to connect to remote clients and co-workers via the Internet anywhere in the world in seconds. The product allows organizations to optimize remote support by accessing end-user systems for real-time incident resolution, eliminating the frustration of phone-only tech support. Bomgar provides enterprises with an unparalleled level of security and scalability, while enhancing IT resource management with the benefits of a virtualized help desk. Backed by venture capital, Bomgar has grown steadily since its inception in 2003 and has thousands of customers and strategic partners worldwide. Based in Ridgeland, Miss., the company is also one of the fastest-growing software companies in America ranked by the 2009 Inc. 500.
Contacts:
Belinda Banks
SS | PR
pr(at)plumchoice(dot)com
866.497.5071
Nathan McNeill
Co-Founder & VP of Strategy, Bomgar Corporation
nmcneill(at)bomgar(dot)com
601.519.0118
Lauren Whittenberg
Lois Paul & Partners
lauren_whittenberg(at)lpp(dot)com
512.638.5322

Intel and Intel vPro are trademarks of Intel Corporation in the U.S. and other countries.
# # #