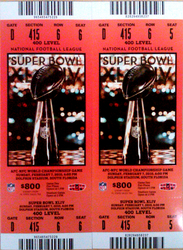 "The weak ticket market for the 2010 Super Bowl has been spurred by the global financial crisis and the South Florida real estate collapse...Also to blame is the participation of the smaller-market city of New Orleans."
Miami, FL (PRWEB) February 2, 2010
The numbers don't lie. The Super Bowl ticket market is taking a dive - fast. Ticket expert Michael Lipman, President and CEO of Miami-based ticket company Tickets of America, explains the reasons behind the current Super Bowl ticket climate.
"The last time Miami played host to the Super Bowl in 2007, which saw a match-up between the Colts and the Bears, tickets had a face value of $500, and fans could expect to pay $3,300 and up per ticket. Lower 15-yard line seats were going as high as $6,500 and a 24-person catered suite went for a staggering $240,000," Lipman remembers.
Prices in 2010 fall well-short of those numbers. "Even though the face value of tickets begins at $800, prices are as low as $1,250 a ticket, with the same lower 15-yard line seats selling for $2,950. A 24-person catered suite is practically a steal in comparison at $95,000," says Lipman.
The prices for Super Bowl parties have plummeted as well. "In 2007, you could purchase a highly sought-after Playboy Party ticket for $3,000; in 2010, the price is $1,250," Lipman also notes.
So what is to blame? Is it the economy? Or a different team playing against the Colts that is resulting in a "Super Bomb?" As Lipman explains, it is a combination of both factors driving the market down. In 2007, corporate spending was at its peak in major financial market cities, like Chicago, which allowed those fans that attended from these cities to shower South Florida with wads of cash back in 2007, which is what helped drive Super Bowl ticket prices to record highs.
The weak ticket market for the 2010 Super Bowl has been spurred by the global financial crisis and the South Florida real estate collapse. With corporate spending becoming so highly scrutinized by the public since the stock market crash, corporations are much more cautious with their discretionary spending. While corporations once allocated funds one to two years in advance for the purchase of Super Bowl packages, which include game tickets, hotel and travel accommodations, parties, etc., many of these same corporations are now under a microscope after receiving government stimulus monies. Today, corporations are liquidating their position and selling suites and tickets in an attempt to recoup previous budget outlays or prior sponsorship deals, which is causing an excess supply of tickets in the market place.
Also to blame is the participation of the smaller-market city of New Orleans. "When compared with Chicago, who's Bears participated in the 2007 Super Bowl, New Orleans does not have the number of large corporations or the strong South Florida ties," says Lipman.
The hypothetical question on the minds of South Florida hotels, party promoters, luxury car renters, restaurants, bars and ticket resellers, such as Tickets of America is, "What difference would a Super Bowl appearance by the Jets have made?" Lipman simply answers, "Money, and a lot more of it!"
When it comes down to it, the Super Bowl is definitely team driven. For example, teams such as the New York Jets and Chicago Bears make bull ticket markets, whereas a match-up between teams like the Indianapolis Colts and New Orleans Saints create bear ticket markets.
Lipman provides an explanation for previous Super Bowl Ticket highs and lows for upper-level tickets over the past decade:
2001: Ravens v. Giants in Tampa, FL. High $3500; Low $1250
"The biggest gain was due to many brokers taking short orders and the New York market drove prices to all-time highs the day of the game"
2002: Patriots v. Rams in New Orleans, LA. High $2000; Low $200
"These tickets sold under face value post-9/11. Super Bowl and fans were terrified to travel and scared of terrorist threats."
2003: Buccaneers v. Raiders in San Diego, CA. High $2300; Low $1100
"The Biggest one-day drop came on the Wed. prior to the Super Bowl because Raider Owner, Al Davis, dumped 5,000 seats into the secondary market at once."
2004: Patriots v. Panthers in Houston, TX. High $2750; Low $1100
"Strong local economies in Texas and Mexico brought tons of buyers causing the biggest price jump on the day of the game."
2005: Patriots v. Eagles in Jacksonville, FL. High $3750; Low $2300
"This year saw an all-time Super Bowl ticket high due to strong teams, Philly fans, a strong US economy and a booming Florida real estate market."
2006: Seahawks v. Steelers in Detroit, MI. High $3000; Low $2100
"Steelers fans had an easy 4 hour drive to Motown, which made prices strong in a very weak and depressed downtown Detroit."
2007: Colts v. Bears in Miami, FL. High $3300 Low $1500
"Pouring rain drove game day prices to tank."
2008: Patriots v. Giants in Phoenix, AZ. High $3000; Low $1300
"With two East Coast teams competing in a weak corporate market in Phoenix, ticket prices didn't reach the high that ticket brokers predicted. This year's market dropped continuously."
2009: Cardinals v. Steelers in Tampa, FL. High $2200; Low $1100
"Steeler-Nation drove prices up the day of the game once again."
2010: Saints v. Colts in Miami, FL. High $2000; Current Low $1450
"Will this be all-time Low since 9/11 or will Saints fans drive in to Miami this weekend?"
Tickets of America buys and sells tickets for sport, concert and theater events worldwide.
They boast the largest inventory of tickets in the nation, specializing in locating hard to find or sold out seats. With offices in Miami, New York and Costa Rica, their multi-lingual staff possesses over 15 years of experience in the industry in worldwide markets. Visit http://www.ticketsofamerica.com to find tickets to any event from the convenience of your own home anytime!
For further information, please contact Tara Cochran at tara(at)ticketsofamerica(dot)com.
###