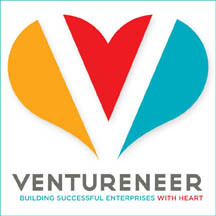 "Building social responsibility into your business plan is good for the bottom line," She suggests a number of ways to do so. Geri Stengel, President, Ventureneer
New York, NY (Vocus) February 3, 2010
Ventureneer's founder, Geri Stengel, has become a regular contributor to the online small business resource, New York Enterprise Report. Like Ventureneer, New York Enterprise Report offers "expert articles and tools to help small businesses grow."
Already providing advice and help for small businesses and nonprofits in her own blog, Vistas, Stengel will be adding her expertise to this, another small business resource. She will be posting to the site monthly, offering small business advice and ideas for new ways to help the bottom line while making a social impact.
"Small business owners have a tough job. Not only are they in charge but they also don't have much time to keep on top of challenges and opportunities that may be coming down the road," Stengel says. "New York Enterprise Report is a resource for small business owners. It gives them access to all sorts of experts who can give them ideas and tools. I'm very happy to be part of this service."
"More and more small business owners are looking for ways to incorporate social responsibility into their business plans, not only as a way to support the sustainability trends happening globally, but also for the opportunity to increase business with like-minded customers locally," says Robert Levin, editor-in-chief and publisher of The New York Enterprise Report. "Geri's blog is one of the ways we can help the small business community achieve these goals."
Stengel's first posting, Social Responsibility Boosts the Bottom Line, discusses the marketing potential of corporate social responsibility and the many forms social responsibility can take.
As Stengel points out, research shows that consumers want to buy from companies that are socially responsible. These are main-stream consumers, about 2.4 million potential customers in New York City alone, according to the research.
"Building social responsibility into your business plan is good for the bottom line," Stengel says, and in her article, she suggests a number of ways to do so.
Stengel's monthly articles will incorporate the experience she's gained as a small business owner and social entrepreneur, as well as insights from her work as a consultant for small businesses.
About Geri Stengel
Geri is founder of Ventureneer, an online education and peer support service. An adjunct professor at The New School, she honed her online experience at companies like Dow Jones and Physicians' Online. Geri co-founded the Women's Leadership Exchange and is president of Stengel Solutions, a consulting service for social-impact organizations.
About Ventureneer
Ventureneer.com provides non profit and small business advice as well as entrepreneurial and non profit training through a new approach to learning: a blend of traditional, formal instruction with informal, peer learning that takes advantage of Web 2.0 technology to capture and share knowledge. Ventureneer's customized blogs, virtual classes, peer-to-peer learning, coaching, web events and articles help entrepreneurs make faster, better decisions for their enterprises.
Contact:
Geri Stengel
212-362-3088
geri(at)ventureneer(dot)com
###