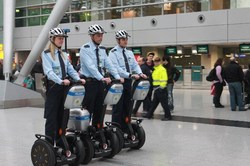 There are serious reasons for switching to Segways. And on top of it, they're fun to use.
Düsseldorf, Germany (Vocus) February 3, 2010
Federal police at Düsseldorf International Airport (DUS) began a trial of Segway human transporters for more efficiency in monitoring criminal activity inside the terminal buildings at Germany's third-largest airport. These Segways operate at speeds of up to 13 miles per hour and are equipped with helmets, flashing flights, sirens, and even first-aid kits. This allows officers to stand and move about 8 inches taller than everyone else and arrive at a scene equipped to act. The result is a greater presence of police officers among the crowds, and being able to see and be seen from greater distances and act accordingly takes security and protection efforts up a notch.
Düsseldorf is the first airport in Germany to use Segways for its police officers. The test phase lasts through June 2010. If successful, police officials plan to use Segways at other facilities, including train stations.
Initial feedback from both police officers and passengers is positive. More officers want to ride a Segway than there are machines available during the test phase. Says one federal officer: "There are serious reasons for switching to Segways. And on top of it, they're fun to use." His colleague Mareike Weber agrees: "Definitely better than walking or riding a bike. And I have more energy at the end of the day." Passengers often show surprise when police on Segways approach. Grand Canary-bound traveler Christina Semrau remarks: "It takes a little getting used to, but it looks pretty good."
Düsseldorf International Airport, Germany's third largest, offers several non-stop flights from US & Canadian cities (Atlanta, Chicago, Ft. Myers, Los Angeles, Miami, New York, Newark, Toronto, San Francisco, Vancouver), as well as convenient connections to many European cities and beyond. For more information on Düsseldorf International Airport, visit http://www.fly2dus.com.
Düsseldorf Tourism & Marketing GmbH is the visitors and convention bureau of the city of Düsseldorf. Its services include tourism and city marketing, conference and meeting marketing, hotel reservation services, fairs and convention services, city event ticket sales and advance ticket reservations. For more information, visit http://www.duesseldorf-tourismus.de or http://www.visitduesseldorf.de.
###