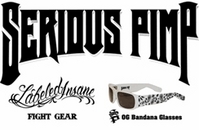 I'm very happy. I prepared myself very much. I trained a lot.
Irvine, CA (Vocus) February 3, 2010
Serious Pimp sponsored two of the five Strikeforce Champions in Saturday's mixed martial arts (MMA) event. Held at the BankAtlantic Center in Sunrise, Florida, the event had fans on their feet, screaming for more.
"This event was one of Strikeforce's best yet," said Damian Kutzner, Serious Pimp CEO. "Fans got to see five amazing title bouts, two of which were won by Serious Pimp fighters."
Nick Diaz took control of his fight with Lithuanian-born striker Marius Zaromskis early, knocking down Zaromskis down with a short right hook. The fight ended in a knockdown when Zaromskis, the reigning Dream champion, succumbed 4 minutes, 38 seconds into Round 1. Diaz captured the vacant Strikeforce welterweight championship and claimed his sixth consecutive victory.
Strikeforce women's lightweight champion Christiane "Cyborg" Santos overpowered Marloes Coenen in the third round of their title match. Defending her crown for the first time, Santos was in charge throughout the match, eventually wearing down Coenen. Santos finished the fight when she took a dominant position over the battle-weary Coenen.
After the fight, Santos said, "I'm very happy. I prepared myself very much. I trained a lot."
Serious Pimp sponsored Diaz and Santos so that they could showcase their fighting spirit and MMA attitude for a worldwide audience.
"We are proud to support all the fighters who enter the cage," said Serious Pimp CEO Damian Kutzner. "Both Christiane 'Cyborg' Santos and Nick Diaz are strong fighters. They have the right attitude and they gave the fans a great show."
Serious Pimp's product line includes sunglasses that blend the hip-hop style of Snoop Dogg, Tha Dog Pound and Ice-T with MMA attitude. Serious Pimp recently partnered with several large retail stores across the United States and the UK, including Hot Topic and No Fear.
About Serious Pimp
Serious Pimp designs sunglasses that blend Hip Hop style with MMA attitude. Since its inception in 1999, Serious Pimp has been a supporter of mixed martial arts, sponsoring a long list of fighters. Created by serial entrepreneur and business mogul, Damian Kutzner, Serious Pimp sunglasses and clothing is worn by entertainers and MMA fighters such as Snoop Dogg, Ice-T, Kimo Leopoldo and Jake Shields. For more information visit http://www.SeriousPimp.com.
For media inquiries please contact Nina Vultaggio at 949-858-1158.
###