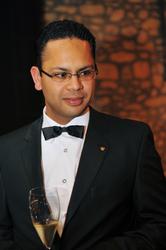 We are extremely privileged to have a sommelier of Miguel's experience and calibre working with us towards creating a world class wine and beverage experience in our hotels
(PRWEB) February 5, 2010
In a move to standardise the wines available at the group's hotels and to introduce exceptional wines to the current wine offering, Southern Sun have, for the first time, employed a group sommelier.
Mauritian-born Miguel Chan has worked in both Mauritius and South Africa and is involved in various publications and committees involved in the wine industry, including the Old Mutual Trophy Wine Show, Santam Classic Wine Trophy, Wine magazine and Platter South African Wine Guide 2010. He is also a long-time tasting co-ordinator for the Swiss Airlines International Wine Awards. Certified by the Court of Master Sommeliers, he represented South Africa at the world final of the Concours International des Jeunes Sommeliers in Frankfurt in 2007 and writes his own blog for sommeliers.
"We are extremely privileged to have a sommelier of Miguel's experience and calibre working with us towards creating a world class wine and beverage experience in our hotels. Miguel will work with the teams in the various hotels to ensure that our food and beverage offerings in our hotels rival the best locally and internationally and that our wine lists showcase the diversity and superb quality of South African wines", says Mike Uphof, Director of Operations for Southern Sun's Deluxe hotels.
"South Africa has the oldest soil structure on earth, a legacy of the pre-historic Gondwana continent, with a diversity of terroir, macro, micro and subterranean climate. My aim will be to introduce and showcase these intriguing nuances to discerning South African and international wine connoisseurs and hotel visitors", says Miguel Chan
The introduction of Miguel to the team fits in with Southern Sun's aim to be Africa's Leading Hotel Group and to continuously improve on the guests experience in all our establishments.
# # #