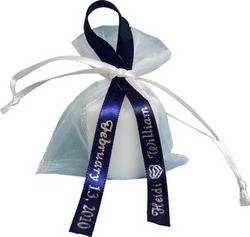 Greentown, PA (PRWEB) February 23, 2010
As event organizers begin planning for the 2010 wedding season, bridalshowerfavors.com is expanding its range of unique personalized gifts and favors to include a new item each month.
The first new item, found at http://www.bridalshowerfavors.com/candlefavors.html, is a candle wedding favors combo kit. The kit includes a sheer white bag for the candle, plus a personalized ribbon to tie on top of the bag to complete this budget-friendly favor. The kit is priced as low at 99 cents each, a great way to stretch event dollars during the current recession. Now, customers can pour their own candles, choose the color of the candle and the scent. Orders are shipped unassembled to avoid damage during transit.
The new Candle Combo Kit is the first in a high-quality, economical favor line being unveiled by bridalshowerfavors.com. As part of the rollout, bridalshowerfavors.com is expanding its imprinting and candle department and has increased its inventory brands to include favorites like Kate Aspen Favors & Fashion Craft.
How to make the Candle Combo Kit
The candle, made in America, is easy to assemble because it comes with a classic organza bag with a drawstring closure on top for simple placement. It includes a votive candle that burns approximately 10 hours, topped off with a personalized ribbon to commemorate this special day forever. After placing the candle in the bag, just pull the drawstrings, then fold the personalized ribbon into a loop by crossing the ribbon and place the ribbon on top of the drawstrings. Form a knot with the drawstrings on top of the crossed ribbon and pull tight to create a simple treasured favor for the frugal consumer.
What's Available
Bridalshowerfavors.com brings trendy favors and unique gifts at discounted prices to couples, their parents and attendants, all at a one-stop shopping destination that's open day or night, seven days a week. With new, inexpensive prices on the world's finest personalized gifts shower party favors, grooms and brides can choose from a wide selection: Unique wedding favors, place card holders, baby shower favors, bridal shower favors, photo albums, Mikasa favors, candle wedding favors, wedding cameras, ribbons, money boxes and bags, soap favors, childrens gifts, prom gifts, personalized wedding party favors, wedding frames, party bubbles, pocket watches, personalized glasses and mugs, engraved flasks, bottle shoppers, Zippo lighters, jewelry, compacts, golf gifts, personalized key chains. Personalization is free on all items. Rush orders and express shipping options are available. The company accepts Visa, MasterCard, American Express & Discover. Also accept PayPal. Cashiers checks and money orders are accepted too, but payment must be received and cleared before an order can be processed.
About Bridalshowerfavors.com
Bridalshowerfavors.com offers a full range of personalized party and event favors, specifically tailored to help create unique events. Its gifts include personalized shower gifts, personalized party favors, personalized wedding favors and more. Its web site is designed to provide easy, affordable options for all budgets and tastes. For more information, please go to http://www.bridalfshowerfavors.com.
Other Bridalshowerfavors.com sites:
prom favors
personalized gifts
groomsmen gifts
# # #