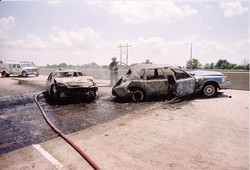 Resolution of this matter will eliminate a great deal of uncertainty for Mrs. Jablonski, knowing that she'll be able to provide for her exorbitant medical expenses
Wood River, Illinois (PRWEB) February 3, 2010
The 5th District, Appellate Court in Mount Vernon, Illinois issued a unanimous opinion (Cause No. 5-05-0723) affirming a $43 million judgment in favor of Dora and John Jablonski against Ford Motor Company. The case was tried in April 2005 before the Honorable Andy Matoesian in the Third Judicial Circuit of Madison County. When contacted, Brad Lakin of LakinChapman, LLC stated that he and the clients were extremely pleased with the opinion. Mr. Lakin said, "the opinion is 80 pages long and extremely thorough in the presentation of the facts and its analysis of the multiple complex legal issues. Mrs. Jablonski was very happy to hear that the jury's verdict had been unanimously affirmed and looks forward to closure on this matter."
"Resolution of this matter will eliminate a great deal of uncertainty for Mrs. Jablonski, knowing that she'll be able to provide for her exorbitant medical expenses," Chapman said. The Jablonski case began when the retired couple was stopped for construction on Interstate 270 in Madison County. They were rear ended while driving a Lincoln Town Car, which is built on the same platform as the Crown Victoria Police Interceptor and the Grand Marquis. The car burst into flames upon impact. Mrs. Jablonski was severely burned before she could get out of the car. Mr. Jablonski was even more severely burned to over 80% of his body and died a few days after the crash.
Mrs. Jablonski had extensive surgery in an effort to reduce the amount of disfigurement of the burns to 3% of her body. As a result of the burns, she developed contractures and has been unable to walk since her injuries. Before the accident the Jablonski's were a retired couple, very active in their neighborhood, with their friends, four sons and family. Mr. Lakin said this was a terribly devastating event in the Jablonski's lives. For Dora to lose her husband and suffer such severe burns at a time in her life when she was looking to spend golden years together has been a horrendous event.
Brad Lakin and Charles Chapman of LakinChapman, LLC represent the Jablonski's. Their law firm currently represents the families of two Ohio police officers, one who died and the other severely burned, in incidents where their Crown Victoria Police Interceptors caught fire. Those cases, along with the Jablonski's, are product liability lawsuits alleging the vehicles fuel tanks are defective and dangerous.
###