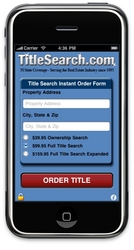 Check property liens and title status from your iPhone
Dawsonville, GA (PRWEB) February 4, 2010
There is now capability for ordering property title searches via the iPhone and mobile devices. AFX Title has released a free iPhone app which allows users to place orders for various title search and abstract products. Users can select basic deed searches or full title reports with lien and document copies. No prior account is required, and titles can be ordered individually for any property nationwide.
Brokers, attorneys, claims adjusters, investigators, lenders, and investors are often away from their offices when they need a title search. In addition, title documents can be viewed on PDF-capable mobile devices when completed and received by email.
This release is the first time that title searching has been made available to the iPhone platform. AFX Title has been a leader in advancing title search technology for over a decade. Title orders can be placed online at TitleSearch.com, and custom interfaces are available for institutional clients.
Real estate industry professionals with mobile devices can access the service through m.titlesearch.com, and the Apple iPhone app can be found in the iTunes store. The AFX Title corporate website is AFXC.COM.
For more information, please contact David Pelligrinelli, President, AFX Title, 877-TITLE-37 (877-848-5337) extension 100. dave(at)afxtitle(dot)com.
###