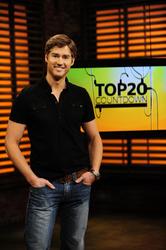 Evan is a gifted broadcaster with music in his DNA
Nashville, TN (Vocus) February 4, 2010
Evan Farmer has been tapped as the new host of CMT's top-rated weekly CMT TOP 20 COUNTDOWN, it was announced today by John Hamlin, senior vice president, production, development and talent for CMT. Most recently known as host and handyman on TLC's home makeover series "While You Were Out," Farmer officially joins CMT TOP 20 as host this Friday, February 5 at 11:00 a.m., ET/PT, with re-airs throughout the weekend.
"Evan is a gifted broadcaster with music in his DNA," said Hamlin. "He is also a one-of-a-kind talent with an impressively unique resume. We're thrilled to have him at CMT."
"Hosting CMT TOP 20 COUNTDOWN is a dream job for me," said Farmer. "I get to interview inspiring people, surround myself with great music and stay close to my family here in Nashville. CMT already feels like home."
Read Farmer's own words about his new gig in his debut blog entry on CMT.com, and follow @EvanFarmer on Twitter.
Born in Asmara, Ethiopia to a US Army flight medic and nurse, Farmer spent much of his early childhood traveling around the world. After graduating from Tulane University with a degree in architecture, Farmer moved to New York City to pursue a career in the entertainment industry. Farmer first made headlines in 1998, in MTV's first made-for-television movie and television series "2GE+HER," which chronicled the spoof boy-band 2GE+HER'S rise to fame. Farmer took his career on the road as he shared the stage with Britney Spears during her 2000 "Oops I Did It Again" summer tour.
In addition to being host and handyman on TLC's Emmy-nominated home makeover series "While You Were Out" from 2002 – 2006, Farmer has appeared in such films and television shows as "Austin Powers in Goldmember," "Shaft Returns," "JAG" and "Total Request Live." After losing his mother to complications resulting from ovarian cancer and his 2GE+HER castmate Michael Cuccione, Farmer became actively involved in raising awareness for charities that make a difference. He is an avid supporter of the Susan G. Komen Foundation, The Michael Cuccione Foundation, Unteal a Cure and UNICEF, just to name a few. He has been the spokesperson for "Tennessee's Walk Now For Autism" since its inception in 2008. Farmer currently resides in Nashville with his wife Andrea and young son Garrison.
CMT TOP 20 COUNTDOWN is a two-and-a-half-hour weekly countdown show that premieres weekly on Fridays at 11:00 a.m., ET/PT and features country music's hottest artists, rising stars and biggest names with interviews and world video premieres.
Visit CMT's press-only Web site http://www.cmtpress.com for more information and downloadable photos on all of CMT's programming.
CMT, a unit of Viacom's MTV Networks (NYSE: VIA and VIA.B), is the leading television and digital authority on country music and entertainment, reaching more than 90 million homes in the U.S. CMT and its website, CMT.com, offer an unparalleled mix of music, news, live concerts and series and is the top resource for country music on demand. The network's digital platforms include the 24-hour music channel, CMT Pure Country, CMT Mobile and CMT VOD.
MTV Networks, a division of Viacom (NYSE: VIA, VIA.B), is one of the world's leading creators of entertainment content, with brands that engage and connect diverse audiences across television, online, mobile, games, virtual worlds and consumer products. The company's portfolio spans more than 150 television channels and 400 digital media properties worldwide, and includes MTV, VH1, CMT, Logo, Harmonix, Nickelodeon, Nick at Nite, Nick Jr., TeenNick, AddictingGames, Neopets, COMEDY CENTRAL, SPIKE, TV Land, Atom, GameTrailers and Xfire.
PRESS CONTACT:
Natasha Powell
615-335-8412
natasha.powell (at) cmt (dot) com
###