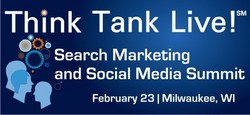 "We will show you how to increase profits and gain more clients for real business results." - Mert Sahinoglu, Inbound Marketing Expert.
Milwaukee, Wisc. (PRWEB) February 4, 2010
Integrated Marketing Think Tank has announced a one-day seminar, Think Tank Live! Internet Marketing Conference, to take place on Feb. 23, 2010.
In this economy, business leaders look for strategies and practical ideas to attract customers and increase profits. "Digital online marketing is the new landscape, we will help people to navigate the various disciplines for success," said Jo Stumpner of Top Floor Technologies in New Berlin, WI.
Emphasizing the opportunity to raise awareness of search marketing and social media regionally, the event features speakers from Wisconsin and Chicago who are highly experienced digital marketing professionals.
Lisa Sabin Wilson, a resident of West Bend, WI will speak about building online communities. Lisa is the author of WordPress For Dummies and BuddyPress For Dummies (Wiley Publishing), and is a regular speaker at national conferences like SXSW Interactive, and WordCamp events across the country.
Another local expert, Anthony Verre, known as MilwaukeeSEO to the local Twitterati, will give a talk named: When Local Means Business – The Secrets of Local Search Engine Optimization Marketing. And Chris King, SEO and Web Analytics Specialist for Agency.com, a graduate of Marquette University, will lead a panel presentation on: Unlocking the Power of Search Engine Optimization for your Website.
I.M. Think Tank's event offers a clear vision to use online marketing tools in an effective and relevant manner. Business leaders who attend Think Tank Live! will learn step by step lessons on how to use key internet marketing tools. "We will show you how to increase profits and gain more clients for real business results," said Mert Sahinoglu, inbound marketing expert from Chicago. Mert first came to Wisconsin from Turkey as a foreign exchange student. He lived in Oostburg, WI during high school.
Each attendee will receive a folder of handouts and access to PowerPoint presentations to help make the information easy to use once they get back to their place of business after the event.
SEMINAR FOCUS: Help businesses to grow by mastering the power of Internet Marketing.
SCHEDULED TOPICS: Digital Marketing Strategy, Search Engine Optimization (SEO), Search Engine Marketing (SEM), Online Advertising, Pay-Per-Click (PPC), Web Analytics, Social Media, Online Reputation Management,Twitter, LinkedIn, WordPress, BuddyPress, Facebook
LOCATION: Country Springs Hotel, 2810 Golf Road, Waukesha, Wisconsin (in the Milwaukee area)
WHO SHOULD ATTEND: Business Owners, Online Marketing Professionals, CMO's, CXO's, Web Developers, Social Media Experts and Entrepreneurs.
DATE: Tuesday, February 23, 2010, 9am-5pm
Check in & voluntary web site reviews begin at 8am
After-Party details: to be announced.
SPONSORS: Mashable and BizTimesMedia, Top Floor Technologies, SunAnt Interactive, KD Interactive and ExPrT Exhibits.
REGISTRATION FEE: $225.00, includes lunch. Check social media outlets for discounts and promo codes.
To Register, visit: http://www.thinktanklive.com/register/
Contact: Mary DuQuaine, Founder and President, I.M. Think Tank, (414) 367-9725
Twitter (@ThinkTankLive), Conversation Tag #ttlmke
About I.M. Think Tank / Think Tank Live: Integrated Marketing Think Tank is a collective group of integrated marketing professionals in Chicago, Illinois and Milwaukee, Wisconsin. The group provides conferences and customized executive retreat and training events with in-depth strategies on how to create online and offline communication channels. Each of I.M. Think Tank's members represents different specialties within digital marketing.
I. M. Think Tank is the source of talent for all of our events. I.M. Think Tank is an organization dedicated to providing strategic c-level intensive trainings and corporate consultation. As a think tank of professionals and practitioners on the cutting edge of social technology, we clarify the connections between search, social media and integrated marketing to improve business profitability on the internet.
###