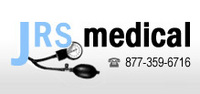 The level of devastation in Haiti is beyond understanding ...This has ignited a fire within in me to make sure we continue to select worthy charities annually that need our support. This will not stop here
Cordova, TN (PRWEB) February 8, 2010
JRS Medical Inc., a global leader in sales of medical supplies around the world, announced that the Company is donating a percentage of all of their January & February 2010 revenue to Haiti earthquake relief efforts through the Red Cross and Samaritan's Purse. JRS Medical employees also are raising funds locally for victims of the tragic earthquake.
During 2008, JRS Medical raised thousands for the St. Jude Research Hospital as part of the giving spirit of Christmas.
"JRS Medical has become a brand known throughout hospitals, clinics, & medical facilities around the USA. Since we are an example to other medical suppliers, it's essential that we assist those in need in times of great tragedy," began Ray Scott, president of JRS Medical. "The level of devastation in Haiti is beyond understanding. We just hope that our contribution of money towards the Red Cross & Samaritan's Purse will make a difference. We encourage individuals and other companies in the medical field to join in the efforts to help the people of Haiti by giving of their resources, their talents, & their prayers."
Scott continued: "The JRS Medical team of employees acts very much like a family, always willing to lend a hand to a colleague. Not only have we encouraged others to give through such simple methods as texting "Haiti" to 90999, we help each other in times of need. Whether it's by moving an employee from one house to another, or volunteering time at a local soup kitchen, we believe in the spirit of giving as part of the foundation of this company."
JRS Medical plans on making their donations to selected charities an annual event and not just a one time donation in response to a tragedy. Ray Scott says, "This has ignited a fire within in me to make sure we continue to select worthy charities annually that need our support. This will not stop here."
ABOUT JRS MEDICAL, Inc.
Based in Cordova, TN, JRS Medical has marketed and distributed quality medical products online for the last 5 years. JRS Medical prides itself in providing premium customer service of its 20,000+ discounted medical supplies (ranging from simple diabetic supplies, ostomy supplies, to wheelchairs) from over 350 manufacturers with the lowest prices seen in the industry. Every year JRS Medical has continued to grow sales from an increasing base of loyal customers in the healthcare industry. JRS Medical, Inc. is also a Tricare provider & a licensed Pharmacy distributor which allows them to sell products that other medical sites are not permitted to even offer. For more information, please visit blog.jrsmedical.com
ABOUT THE RED CROSS
Since its founding in 1881, the American Red Cross has been the nation's premier emergency response organization. As part of a worldwide movement that offers neutral humanitarian care to the victims of war, the American Red Cross distinguishes itself by also aiding victims of devastating natural disasters. Over the years, the organization has expanded its services, always with the aim of preventing and relieving suffering. An average of 92 cents of every dollar the Red Cross spends is invested in humanitarian services and programs. The Red Cross is not a government agency; it relies on donations of time, money, and blood to do its work.
ABOUT SAMARITAN'S PURSE
Samaritan's Purse is a nondenominational evangelical Christian organization providing spiritual and physical aid to hurting people around the world. Since 1970, Samaritan's Purse has helped meet needs of people who are victims of war, poverty, natural disasters, disease, and famine with the purpose of sharing God's love through His Son, Jesus Christ.
SOURCE: JRS Medical, Inc.
JRS Medical Inc
David Patterson
877-359-6716
# # #