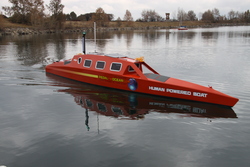 I hope to inspire others to do both extraordinary and ordinary things every day using their own power. It is essential for our health, and it sends the right message about physical activity to our children
Calgary, Alberta (PRWEB) February 4, 2010
Speaker-adventurer Greg Kolodziejzyk, the holder of two world records, will attempt to become the first person ever to travel from Canada to Hawaii under his own power. Using a custom designed pedal-powered boat christened 'WiTHiN,' Greg will begin his epic 4,800 km (3,000 mile) journey from Tofino, B.C., to Honolulu, Hawaii on July 1, 2010. His solo trip is expected to take between 50 to 80 days. This February 15th Greg will conduct a sea trial off the coast of Victoria, B.C., to further test WiTHiN. The Discovery Channel is documenting the project for future broadcast.
Greg already holds two human-powered world records. One is for the most distance covered by human power on land (1,041 km/647 miles). The other record is for the greatest distance covered by human power in one day on water (245 km/152 miles). For this record attempt in July, which he's dubbed 'Pedal The Ocean,' (http://www.PedalTheOcean.com), Greg will pedal unassisted for up to 16 hours per day. All alone he will battle storms at sea, and risk capsizing, as he pedals through one of the most desolate stretches of ocean on the planet.
Greg is undertaking this daunting challenge to inspire young people to be more physically active, and to raise money for a related cause; Kimberlee's Bikes for Kids. For every mile Greg pedals across the ocean, Kimberlee's Bikes for Kids will donate one bicycle to a child who can't afford one. If he makes it all the way to Hawaii it could mean 3,000 bikes for 3,000 kids! Individuals, corporations and others are encouraged to help by pledging $50 for each mile pedaled at pedaltheocean.com/charity.php. Every $50 raised buys a bicycle for a child.
"This will be the most difficult and dangerous world record attempt I have ever pursued," said Kolodziejzyk, age 48. "It will be the ultimate test of human power. Through it, I hope to inspire others to do both extraordinary and ordinary things every day using their own power. Tapping into our human power is good for the environment, essential for our health, and it sends the right message about physical activity to our children."
For the last four years, Greg has been planning 'Pedal The Ocean' and building and ocean-testing his craft. Designed by world record-winning naval architect Stuart Bloomfield, and Pedal The Ocean chief engineer Rick Willoughby, the small boat is made of carbon fiber. In good conditions it is capable of traveling up to 8-9 Kilometers Per Hour (kph).
The public is invited to track Greg 's progress at http://www.PedalTheOcean.com, where he will transmit daily progress reports including video, photos, and live position feeds on the LIVE "Follow Greg" map.
Sponsors
Companies seeking to sponsor Greg's boat can call 530.908.9225 for details on an array of opportunities for publicity, including decal placement inside and outside the craft -- and others -- or visit http://www.pedaltheocean.com/sponsors.php.
Speaking
A captivating motivational speaker in high demand, and successful businessman, Greg Kolodziejzyk is a favorite presenter at conferences, commencements, retreats and other events. To view video clips of Greg's entertaining and engaging speaking style, visit http://www.human-power.com. To inquire about having him speak at your next function, please call 530.908.9225.
Visual Assets for the Media
For downloadable photo and video assets, please visit http://picasaweb.google.com/adventuresofgreg/ForMedia#.
For Video of the Recent Vancouver Island Sea Trial visit:
http://www.pedaltheocean.com/ (at bottom of page).
# # #