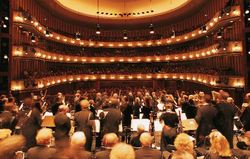 Opera and Ballet for All
Düsseldorf, Germany (Vocus) February 4, 2010
On Friday, July 16, 2010, a major opera gala featuring international stars will be visible in two Düsseldorf locations at once: At the Deutsche Oper, one of Germany's premier opera houses, and on a giant outdoor screen in Düsseldorf's castle square in the heart of the city's historic Old Town.
With the event at the opera house for ticket holders and the live broadcast a free event open to anyone, Düsseldorf joins other major German opera cities in an effort to make opera more accessible. This has led to attracting a wider audience and opening the art form to more people in Düsseldorf than would fit in the opera house; hence, the name "Opera and Ballet for All." More than 10,000 people gathered for last year's outdoor broadcast.
Musical director Axel Kober will conduct Düsseldorf Symphonic Orchestra that night, and Martin Schluepfer will direct the "Ballet on the Rhine." Solo Performers include Vesselina Kasarova, one of the world's most sought-after mezzo soprano singers.
For "Opera and Ballet for All" and concert details, visit http://www.rheinoper.de.
Düsseldorf Tourism & Marketing GmbH is the visitors and convention bureau of the city of Düsseldorf. Its responsibilities include tourism and city marketing, as well as conference and meeting marketing, hotel reservation services, fairs and convention services, city event ticket sales and advance ticket reservations. For more information visit http://www.duesseldorf-tourismus.de; http://www.visitduesseldorf.de.
Düsseldorf International Airport, Germany's third largest, offers several non-stop flights from US & Canadian cities (Atlanta, Chicago, Ft. Myers, Los Angeles, Miami, New York, Newark, Toronto, San Francisco, Vancouver), as well as convenient connections to many European cities. For more information about the airport, visit http://www.fly2dus.com
###