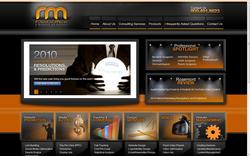 We offer the best of both worlds – a custom look with the benefits of a content management system.
San Diego, CA (Vocus) February 4, 2010
Each year, some of the most respected plastic surgeons and professionals in the fields of aesthetic and reconstructive plastic surgery gather together in an annual forum to speak and learn about the latest advances in cosmetic enhancement. Sponsored by the American Society for Aesthetic Plastic Surgery and The University of Miami Leonard M. Miller School of Medicine, the Baker Gordon Educational Symposium is now in its 44th year. Held from February 11th through February 13th, 2010, this year's symposium will be presented at the Hyatt Regency Hotel in Miami, Florida. And Rosemont Media™, a medical website design firm based in San Diego, will be attending the event to speak with doctors who are continuing to try and find new ways of reaching out to their communities. The Baker Gordon Educational Symposium is one of four large medical conferences that Rosemont will attend in the coming months.
(http://www.rosemontmedia.com/about#keith ) Keith Humes, CEO of Rosemont Media™, says the reason he attends events like the Baker Gordon Symposium is to meet and talk with some of the best plastic surgeons in the world and discuss how they can use their presence on the internet in a more useful way. And, Humes says, one of those methods is by having a plastic surgery website design uniquely tailored to the doctor's individual practice, built from the ground up – just for them. "The Internet is in a continuous state of evolution. New trends, new technologies, new capabilities pop up just about every day. Our company embraces and harnesses these new capabilities, utilizing them to our clients' advantage. We want to establish a solid foundation for plastic surgery websites, with a state-of-the-art design and the best chance for our clients to soar to the top of the search engines. We put a lot of love into it, we custom-build it by hand. There's nothing automated about building custom websites."
But, Humes says, that's just the beginning. He says most doctors want to have control over their own content, so they can update and revise as they see fit without the hassle of going through an outside web administrator. And, in addition to customized websites, Humes says that's exactly what Rosemont Media™ gives them. "We offer the best of both worlds – a custom look with the benefits of a content management system." He says Rosemont Media™ offers doctors numerous methods of spreading their message and standing out from the pack, including unbiased consulting from experts in the web design field; original content; search engine marketing strategies designed to help their visibility in both real and virtual communities; advanced graphic design; personalized blogs; and internet video capabilities. Specializing in medical and dental website design, Humes says Rosemont Media™ concentrates on giving its clients exclusivity in their markets, and his goal at the Baker Gordon Educational Symposium is to discuss the company's philosophy with doctors so they can know how Rosemont can help them grow their practices.
In addition to the Baker Gordon Symposium in Miami, Rosemont Media™ will also be attending the upcoming 27th Annual Dallas Rhinoplasty Symposium; the 26th Annual AACD Scientific Session for the American Academy of Cosmetic Dentistry in Grapevine, Texas; and the American Society of Aesthetic Plastic Surgeons Annual Meeting 2010 in Washington, D.C. Humes says "The doctors who attend these conferences are known as some of the best and most innovative physicians and dentists in the world. And it's important that they are able to meet with companies like Rosemont Media™ so they know the unique and effective tools available for them to reach out to their communities and truly be heard."
The 44th Annual Baker Gordon Symposium, endorsed by the American Society of Plastic Surgeons and the International Society of Aesthetic Plastic Surgery, will be held in the Ashe Auditorium of the Hyatt Regency Hotel in Miami, Florida from February 11th to February 13th, 2010.
For more information on Rosemont Media™ and the services they provide, the company can be reached at (800) 491-8623. http://www.rosemontmedia.com.
###