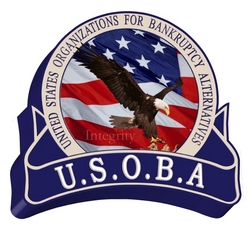 The Virgin Islands UDMSA goes a long way towards providing strong consumer protection to people in serious financial situations
Houston, TX (Vocus) February 4, 2010
The United States Organizations for Bankruptcy Alternatives (USOBA), the most established debt settlement association in the United States, today praised the recent action of Gov. John deJongh Jr. of the Virgin Islands in signing into law Act No. 7145, a comprehensive consumer protection bill regulating the debt settlement industry.
The Act, which amends Title 12A of the Virgin Islands Code and enacts the Uniform Debt Management Services Act (UDMSA), provides uniform rules to regulate debt settlement companies in the Territory, as well as debt consolidation companies and credit counseling agencies. Developed after an extensive, multi-year study, the UDMSA governs all debt management and counseling services via registration, agreements and enforcement provisions.
"The Virgin Islands UDMSA goes a long way towards providing strong consumer protection to people in serious financial situations," said John Ansbach, USOBA Legislative Chairperson. "This type of regulation actively protects consumers while at the same time allowing consumers access to the valuable financial services provided by legitimate debt management and debt settlement providers. These services are imperative for consumers suffering financial hardships in today's economic environment."
The UDMSA has also been adopted by six other states: Colorado, Delaware, Rhode Island, Utah, Nevada and Tennessee.
About Debt Settlement
Debt settlement companies act on behalf of consumers, negotiating directly with creditors to facilitate repayment of consumer debts at a reduced percentage of the total amount owed. In return, consumers generally pay a fixed, monthly service fee. Upon completion of a debt settlement program, consumer client's debts included in the "pay-as-you-go" program are "settled," or resolved with zero balances.
About USOBA
The United States Organizations for Bankruptcy Alternatives (USOBA) is dedicated to providing its member companies with important, industry-related information, including compliance requirements, as well as advocating on behalf of its membership for fair and appropriate industry regulation that maintains the utmost in consumer protection. USOBA members are provided a USOBA State Law Summary guide, the only one of its kind in the industry, to better ensure and promote national compliance. This guide contains the laws and regulations, state by state, and has been reviewed by regulators and legislators. For further information, please visit http://www.usoba.org.
###