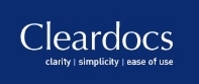 The poor performance of retail superfunds in the wake of the GFC, combined with higher fees, have led a further 27,000 Australian's to establish SMSFs over the past year.
(PRWEB) February 5, 2010
Cleardocs sees dissatisfaction in retail super funds as new research shows a growth in Self Managed Super Funds – SMSFs.
The Investment Trends 2009 SMSF Accountant Report, which is based on a survey of over 500 accountants working in public practice, confirmed what many in the industry would have seen first hand over the past year – an exodus from retail super funds into Self Managed Superannuation Funds (SMSFs).
The poor performance of retail superfunds in the wake of the GFC, combined with higher fees, have led a further 27,000 Australians to establish SMSFs over the past year.
These issues clearly led investors to take matters into their own hands; given that accountants saw a significant increase in the number of clients coming to them with the suggestion to set up an SMSF. Whilst last year the number of SMSFs set up on client suggestion was 16% the figure doubled this year to 32%. Unsurprisingly, key factors driving the establishment of SMSFs were dissatisfaction with poor performance of existing super funds (44%) and the level of fees charged (25%). However the main catalyst for the establishment of self managed super funds was investors desire to have more control over their super investments – 79% cited this as the reason for establishing their SMSF, compared to 65% last year.
Despite this desire to manage their own investments in the hope of better results, members of existing SMSFs also suffered significant losses over the past year. The average SMSF balance dropped by over 16%, from $966,000 in September 2007 to $810,000 in June 2009.
This may bear some correlation with the fact that the majority of accountants – almost 70%, believe that SMSF investors do not spend enough time on both their selection of SMSF investments or the administration of their fund.
The administration of SMSFs appears to be an ongoing issue, despite the heavy penalties imposed by the ATO on non-complying funds. Whilst establishing an SMSF can be relatively inexpensive and straightforward, the key to success for many now managing their own super investments will be ongoing careful management and planning of their SMSFs and investments. Whilst the management of an SMSF can be complex, it's also a great way for investors to maintain control over their own money – and in turn, retirement.
About Cleardocs
Launched in May 2002, Cleardocs is a leading provider of online legal documents, allowing professional users such as accountants, lawyers and financial planners as well as retail customers, to produce high quality, plain-language legal and related documents online and within minutes.
Cleardocs currently has over 20,000 registered customers and was the first website to offer direct integration with ASIC, allowing a totally online company registration service.
The unique technology of the Cleardocs site means that legal documents, as well as Pty Ltd companies, can be created online 24/7. Cleardocs documents can be downloaded instantly, and are currently the only documents available online with sign off from a top 20 law firm (Maddocks).
# # #