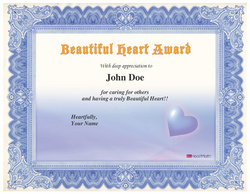 "The HeartMath Certificates are a fun way to encourage people to share their appreciation with those they love and care for and who have made their world richer."
Boulder Creek, CA (PRWEB) February 4, 2010
HeartMath® LLC, known world-wide for their innovative solutions for reducing stress and improving health and well-being, is offering a unique, free service that allows people to create and customize beautiful certificates that can be given as gifts. Their Beautiful Heart Award is expected to be very popular with this being National Heart Month and with Valentine's Day just around the corner.
Appreciation, both given and received, is good for the heart, say HeartMath representatives, and the HeartMath certificates are a fun and easy way to show your appreciation for someone.
The certificates can be emailed to friends and family, posted on a profile page on social networking sites like Facebook, or printed out and framed to be given as a gift (http://www.heartmath.com/certificate).
HeartMath representatives say that feeling appreciation is not only beneficial for your physical health but also for your emotional health and resilience.
Dr. Deborah Rozman, President and CEO of HeartMath LLC's parent company Quantum Intech, Inc., and co-author of Transforming Stress: The HeartMath Solution for Relieving Worry, Fatigue and Tension, says: "Positive emotions give us the energy and the ability to flex and recover quickly from whatever stressors or challenges that come up. When we're lacking resilience it's often because our mental and emotional systems have been out of balance. HeartMath tools, techniques and our emWave® technologies help people build a solid baseline of resilience by strengthening our emotional flexibility."
HeartMath's nonprofit sister organization, the Institute of HeartMath, has conducted rigorous research on the heart and the physiology of emotions for over 18 years. Their research shows that when we experience heartfelt emotions like love, care, appreciation and compassion the heart produces a smooth pattern that looks like gently rolling hills. Harmonious heart rhythms, which reflect positive emotions, are considered to be indicators of cardiovascular efficiency and nervous system balance. Studies confirm that learning to shift out of stressful emotional reactions to positive heartfelt emotions can have profound positive effects on the cardiovascular system and our overall health.
Based on these research findings, HeartMath created a variety of products and services that have been adopted as a gold standard among many leading healthcare organizations. HeartMath clients include Blue Cross Blue Shield, Kaiser Permanente, Duke Medical Center, NASA and Veterans Affairs Medical Centers, as well as thousands of health professionals around the world. Their award-winning emWave® technologies help people easily see how the heart and emotions are linked and teach the user simple methods to quickly shift the heart rhythms out of a stressful pattern and into a more efficient state.
Rozman says, "The HeartMath Certificates are a fun way to encourage people to share their appreciation with those they love and care for and who have made their world richer."
Each certificate expresses heartfelt sentiments that tell family, friends, co-workers, a mentor or teacher, or your next-door neighbor how much you appreciate them. HeartMath plans to continue adding new selections to their HeartMath Certificates.
About HeartMath:
HeartMath LLC (http://www.heartmath.com) is a cutting-edge performance company providing a range of unique services and programs, products, and technology to improve health and well-being, while dramatically reducing stress and boosting performance and productivity. HeartMath research studies have demonstrated significant improvements in clinical outcomes such as hypertension, cognitive performance and metabolic syndrome, and organizational outcomes such as staff retention, health claim cost reduction, and employee and customer satisfaction. HeartMath studies have been published in numerous peer-reviewed journals such as American Journal of Cardiology, Stress Medicine, Preventive Cardiology and Harvard Business Review. Organizational clients include Stanford Business School, Blue Cross Blue Shield, Kaiser Permanente, Duke Medical Center, NASA and Veterans Affairs Medical Centers, as well as dozens of school systems and thousands of health professionals around the world.
# # #