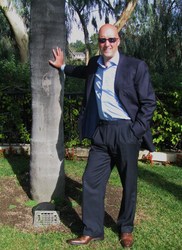 California (PRWEB) February 4, 2010
H&R Block's new Times Square flagship office is a blend of high-tech innovation and tax-rich expertise. A giant "smart wall" guides clients through an interactive tax experience. Visitors can view photos, videos and bios of tax professionals, and learn their areas of expertise.
Venture capitalist and high-tech investor Mouli Cohen was interviewed today for his take on the flagship opening.
"H&R Block's flagship office is designed to pay homage to the company's rich tradition while setting a more relevant and leading edge tone for the company's future," says Cohen. "They're blending more than 55 years of tax preparation expertise with high-tech tools to provide a state-of-the-art client experience."
Through the office's giant smart wall, users can answer questions about their specific tax situations by touching a monitor. Based on their responses, a virtual host guides them through an interactive experience. Clients can also print tax tips and a tax preparation check-off list through the touch-screen wall, as well as email tax professionals year-round.
"Over a million people walk by the new place each week," said Cohen, which is located at 555 Seventh Avenue in New York. "The flagship is a living billboard designed to take the H&R Block brand into the future."
H&R Block will open nine other new offices in New York in 2010. In addition, 300 of the company's offices around the country will be remodeled to share some of the contemporary features of the New York flagship.
About Mouli Cohen
Mr. Cohen is a successful entrepreneur who has founded and developed successful ventures in the biotechnology, high technology, digital media and entertainment sectors. He has balanced his success in business with extensive philanthropic activities. Over the years he has supported children's charities, food programs, medical research, and the arts as well as education projects both in the US and abroad.
# # #