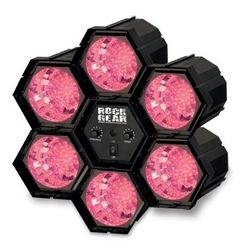 I get hundreds of e-mails from people who want all-pink light pods
Los Angeles, CA (PRWEB) February 4, 2010
Just in time for Valentine's Day, Rock Gear Inc. has released electrifying pink and red light pods with its HexoLight LED lighting system. The limited-edition Valentine's Day version is available with the HexoLight 3000 and HexoLight 6000, and it comes in pink, red or a combination of both colors. The special editions are appropriately called Super Pink and Super Red.
Pink-colored light pods are the most popular custom shade for HexoLight, and the company decided Valentine's Day that would be the perfect time to release the pink light pods, according to Ric Ralston, the owner of Rock Gear. "I get hundreds of e-mails from people who want all-pink light pods," Ralston said. "We're just filling the demand where we see it."
Ralston attributes much of the demand for pink light pods to the vast number of females who play music games. Approximately 40 percent of gamers are female, according to a 2008 study by Ipsos MediaCT for the Entertainment Software Association. As such, Ralston expects the Valentine's Day version of HexoLight to be popular with a broad audience. He anticipates that both male and females will use the Super Pink and Super Red light pods to create a concert-stage feel for games like Rock Band and Guitar Hero. College students will likely use the red and pink light pods as party lights to simulate a nightclub atmosphere when throwing Valentine's Day parties.
HexoLight is a revolutionary system that pulsates to the beat of any sound source--from stereos to iPods--to create a spectacular light show. Unlike similar products, HexoLight does more than respond to low-frequency or bass sounds. Its patented technology reacts to frequencies throughout the sound spectrum, making it the ultimate entertainment accessory for all types of music.
As another benefit, HexoLight uses energy-efficient LED lighting elements that deliver high responsiveness, brightness and reactivity. The hexagon-shaped system can be expanded and reconfigured to fit customers' needs. In addition, HexoLight is very affordable, with prices starting at just $30. "You no longer have to hire a DJ or spend hundreds of dollars on lighting equipment to transform your home space into a rock concert or night club like experience," Ralston said. "For the first time, one set of lights can be used for music video games like Guitar Hero, for throwing parties and for live bands/music."
Through HexoLight, Rock Gear is striving to make listening to music and playing music video games more fun and economical. So far, the company is having a significant impact on the home entertainment industry. Its first product, HexoLight 3000, received rave reviews after being launched early in 2009 with the support of the founders of Guitar Hero. "While we don't claim to be solving any of the world's big problems, we're proud to be playing our part in helping bring home entertainment up a level," Ralston said.
Since being launched 18 months ago, Rock Gear has experienced rapid growth. The company has recently relocated to a larger facility, added staff and begun distributing products overseas. "We recently starting selling our products in retail stores in five countries and are expected to be in major retail stores in the United States soon," Ralston said.
In the near future, Rock Gear will be adding more variations of the HexoLight system. For instance, the company soon will be releasing a Saint Patrick's Day version of HexoLight. To learn more about the limited-edition Valentine's Day version of HexoLight, please visit http://www.rockgearshop.com.
About Rock Gear Inc.
Rock Gear was founded in 2009 by Ric Ralston, who has spent 20 years working in high-end telecommunication and computing equipment design and manufacture. Ralston was inspired to create the company by his penchant for music, video games and emerging LED technologies. He remains heavily involved with all aspects of the business, including design, manufacturing, marketing and distribution. Under his leadership, the company has expanded to offer a complete line of music lights and accessories worldwide. A privately-owned firm, Rock Gear is based in Austin, Texas.
# # #