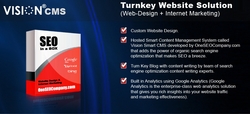 (Vocus) February 5, 2010
In today's marketplace, Google has become a virtual Pandora's box. The Internet has cracked open the world of information and advertising, making all things easier with a simple online search.
As the market becomes increasingly competitive, attorneys and law firms are looking for ways to increase their clientele, strengthen their brand and stretch those marketing dollars.
When those attorneys begin conducting research on lawyer internet marketing they find a particular buzz and the phrase that always emerges at the top is "Google search results."
Google and Internet marketing have become synonymous in most advertising strategies, but how important is it really for lawyers and law firms?
While some Internet marketing companies try to take the easy way out by simple linking phrases such a 'wrongful death' or 'motor vehicle accident' on a blog to pages on their clients' website, there is far more rationale behind that system. The logic being that Google gives greater emphasis to text in links so Google search results will rank blog posts higher for searches on said terms.
Many try to 'game' Google instead of using Google as one of their most valuable tools in their marketing arsenal. Google is about giving people what they want and if used correctly, attorneys can find a windfall of benefits both for their practice and their brand.
Marketing a lawyer's services on the Internet was all about helping people. By answering people's legal questions via the Internet, a firm can generate more work and become more successful. By engaging people and addressing their concerns, Google will begin to see the attorney or firm as an authority in their area of practice and give them higher and higher rankings. This kind of organic assistance can do wonders for search engine results and Google likes it, too.
Google can also aid in improving the image a law firm by addressing a target audience, either locally or nationally. By putting fingers to keys (instead of pen to paper nowadays), an attorney can effectively reach out to their potential clients, educating them, and building a level of trust before a contract is ever signed.
Creating compelling and educational content will help create a boost in rankings. Users appreciate good content and will often spread the word. Lawyer Internet marketing is strongest when it is routed through user-friendly mediums such as blog posts, social media services, email, forums, or other means. Organic marketing is what helps build a website's reputation with both users and Google.
Visit http://www.oneseocompany.com or call OneSEOCompany at 888-623-6996 to learn more about marketing on Google and other lawyer firm marketing strategies.
Dallas website designers of OneSEOCompany.com are usability engineers with skills to build SEO friendly websites for lawyers. With over a decade of web development expertise the design team specializes in legal web site design, law firm search engine optimization, and graphic design services for law firms, lawyers, solo attorneys.
Media Contact:
Erin Musquiz
erin(at)oneseocompany(dot)com
###