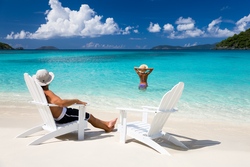 Greensboro, NC (PRWEB) February 4, 2010
Nothing spells romance like walking on a deserted beach in the Caribbean, the warm water lapping at your feet, the sun setting in the distance framed by perfectly swaying palms. But what about getting a massage on the cliffs of Negril, Jamaica? Staying in a rock star's villa on the private island of Mustique? Hiding out in a luxurious tree house retreat in the rainforest of Brazil? Or feeding each other chocolate straight from the source in Grenada?
Want to know the best and most unique sun-kissed tropical destinations to woo your valentine this year? Just in time for Valentine's Day, Luxury Living International magazine reveals its 2010 list of the Top 14 Most Romantic Getaways in Paradise for the latest installment of the "Best of Paradise" series (http://www.luxurylivingint.com). While the famed beach escapes synonymous with Caribbean bliss have made the cut, so too have fabulous, exotic romantic getaways you'll want to add to your paradise to-do list.
Recognizing that couples find romance in assorted settings, Luxury Living International searched throughout the diverse paradise that is the Caribbean and Latin American to deliver the best-of-the-best; the truly unique, first-class and unforgettable destinations where romance is put at a premium. Whether you find romance relaxing in hot springs beneath a towering volcano in Costa Rica, dining at the best French restaurants in St. Martin, escaping to a five-star resort in the Dominican Republic or strolling on a pink sand beach in Harbour Island, Bahamas, Luxury Living International's Top 14 Romantic Getaways in Paradise, currently online at http://www.luxurylivingint.com, reveals the crème de la crème of romantic experiences in paradise.
Escape from reality in St. Lucia at one of Jade Mountain's private sanctuaries. Set high on the hillside with mind-blowing views of the twin Piton peaks, guests staying in the luxuriously appointed open-air rooms enjoy five-star dining, infinity pools and complete privacy. Or enjoy VIP treatment in a beachfront villa designed by famed designer Oscar de la Renta at Tortuga Bay in the Dominican Republic, and feel fashionable, pampered and romanced every second of the stay.
While each of the Top 14 Romantic Getaways in Paradise is hand-selected to pique a different interest—from ultimate relaxation to adventure—all share the same traits. To make Luxury Living International's list, each recommended property must offer outstanding service, luxe accommodations, breathtaking scenery and unsurpassed romantic appeal. They must also be unique and exotic—places and experiences you'll never forget. Yet the Caribbean and Latin American paradises Luxury Living International explores are also easily accessible, some even offering direct flights from the U.S. and Canada.
Top 14 Romantic Getaways in Paradise makes easy work of booking an out-of-this-world Valentine's Day vacation. It also comes in handy for anniversaries, honeymoons and any other romantic holiday. Set in tropical locales and offering so much more than a place to escape for February 14, these world-class resorts, islands and restaurants provide the best places for romance in the Caribbean, Latin and Central America region. Whether it's a private sanctuary with a view of the Pitons at Jade Mountain in St. Lucia, a beachfront villa designed by Oscar de la Renta at Tortuga Bay in the D.R. or renting Mick Jagger's private home in Mustique, the getaways profiled here make the stuff of romantic paradise dreams a reality. Stop dreaming and start living. Don't just fall in love in paradise, fall in love with paradise.
###