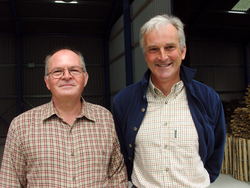 To be an FSC certified supplier means Torry Hill Chestnut Fencing can offer new and existing clients even more of a guarantee of the quality of our timber and our dedication to the environmental aspects of woodland management.
(PRWeb UK) February 5, 2010
Kent-based firm, Torry Hill Chestnut Fencing has been awarded two prestigious Forest Stewardship Council (FSC) certifications. The company has achieved the certificate for Forest Management, which means the woodland is maintained to the highest standards and also the 100% pure Chain of Custody certificate, which traces wood from the managed forests through all stages of processing and distribution.
Torry Hill Chestnut Fencing applied for the FSC certification in January last year and some months later, having been presented with the accolade, is now one of very few fencing companies in the UK to grow, process and supply FSC certified wood.
"We are delighted to receive FSC approval," says John–Leigh Pemberton, owner of the Torry Hill group. "We manage every aspect of our chestnut fencing products ourselves- from growing and coppicing the woodland, to processing the wood and producing the fencing in our purpose built wood yard. To be an FSC certified supplier means Torry Hill Chestnut Fencing can offer new and existing clients even more of a guarantee of the quality of our timber and our dedication to the environmental aspects of woodland management, which is what we are all about. We believe we are the only chestnut fencing suppliers worldwide able to supply 100% pure FSC certified chestnut paling fences, and we're absolutely thrilled."
FSC is an international organisation dedicated to ensuring the responsible management of the world's forests. The FSC logo on a wood product guarantees that customers can buy the wood with the knowledge they are contributing to the safeguarding of the world's woodlands. FSC approved timber means the wood has gone through stringent checks to make sure it is from woodland that is sustainably managed and traceable back to its source. Having passed these checks, Torry Hill Chestnut Fencing was awarded both FSC certificates.
Many government bodies will only use companies that supply FSC certified timber so this is a major achievement for the firm. Local authorities and contractors can be assured Torry Hill Chestnut Fencing can provide them with the kind of quality and responsibly sourced chestnut their project requires. The business recently supplied 2.5km of close spacing chestnut fencing to stop sand erosion on the Dutch Coast. The fencing will be used for erosion protection in the south of Holland, for a project called 'Waterschap Zeeuws-Vlaanderen', commissioned by the Dutch government. Another European order was for close spaced fencing to prevent porcupines damaging the grand gardens of an Italian palazzo in the Sabine Hills.
Woodland management goes back in the Leigh-Pemberton family for generations. The Torry Hill estate includes nearly 1,000 acres of chestnut woodland that are regularly coppiced and this woodland has been managed for more than 100 years to produce the highest quality timber. Chestnut fencing is a traditional product and uses the natural quality of sweet chestnut, which has been grown in this country since medieval times. Sweet Chestnut has remained a popular option over the years due to its strength and appearance, as it weathers to an attractive, neutral colour and is durable and long lasting. For the vast majority of fencing jobs, either temporary or permanent, chestnut has proved to be a highly effective material. It meets the requirements of the Health and Safety Executive (a body responsible for safety and welfare at work) for safety fencing and provides a permanent easy to erect barrier. Unlike plastic or steel it is made from a natural, sustainable resource which is grown and produced in the UK.
Torry Hill Chestnut Fencing has just relocated into a new 10,000 square foot wood yard and office, thanks to a grant from SEEDA and with support from the Forestry Commission. Both organisations recognised the work Torry Hill Chestnut Fencing does in providing rural employment and also the years of knowledge and experience John Leigh-Pemberton and the business have in woodland management.
Since the recent expansion Torry Hill Chestnut Fencing has increased its customer base spanning the UK and with another 60 arctic-loads going to Europe each year is fully equipped to supply clients both at home and abroad. The company manufactures Sweet Chestnut Pale Fencing, cleft post and rail, chestnut stakes, bollards, round posts, large and small chestnut hurdles and has recently introduced a new range, the 'Torry Panel Fence'.
"Europe is at the forefront of our demand," says John Gambell, fencing manager at Torry Hill Chestnut Fencing. "The Europeans are very switched on when it comes to environmental issues and sourcing sustainable, yet durable materials and are realising chestnut is a good option for them."
Torry Hill Chestnut Fencing is growing and expanding all the time and has become a specialist in supplying traditional and contemporary chestnut products.
For more information please visit: http://www.torryhill.co.uk
###