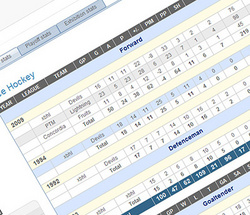 sportalOnline makes it easy to manage your Personal, Team, League & Tournament stats. Take a test drive, you wont regret it!
Montreal, Quebec (PRWEB) February 6, 2010
sportalOnline.com is a new Hockey Portal offering a unique experience to all Hockey players. With a user friendly interface, players will be able to keep track of their personal statistics, as well as have the option to manage every aspect of a Team, League or Tournament.
Signing up for a Personal Statistic Management account is free. Registered users will be able to manage and keep track of their career statistics in every league they have played for and by using the interactive calendar with integrated reminders, they will never forget a Hockey Game or Event. Users also have the option to share with the community all their Hockey related Pictures & Videos, which can be rated by other users and shared via Facebook, Twitter and other online applications.
Personal Statistic Management is only a small part of what sportalOnline.com has to offer. Every user has the option to join as many Teams, Leagues and Tournaments registered on the site and take full advantage of the Group's functionalities.
If playing hockey is only part of what the user does, and he wishes to organize his own Teams, Leagues and Tournaments, he has the option to create these groups and manage every single aspect. This is where sportalOnline.com really stands out from the crowd. Organizers will be able to update their games LIVE via our online game sheet, making statistic updates simple and fast. Once the game has been submitted, he can move on to the next game, or write his post-game report. Managing other aspects has never been easier: from Schedules, Standings and Statistics of Players & Teams to Career Stats, Trophy Winners and Champions. The Group players will receive reminders for their scheduled games, making life much easier for any Organizer. Other features include access to a News Blog and Image Gallery. This is as good as it gets for any Hockey Organizer wanting to give their players a unique experience.
Being also a Hockey portal, Registered users and Guests have access to a database of information on Hockey Leagues and Tournaments. All multimedia uploaded by users and flagged as public will also be viewable by everyone.
sportalOnline.com is not just an innovative Hockey Management site, but also a Hockey Community where players and organizers can look for, expose and share their hockey experience.
About sportalOnline.com:
Designed and Developed by Montreal web designer, XBHL league organizer and Hockey Fanatic Gino Sciretta, sportalOnline.com is the foundation for every player wanting to take Hockey Statistic Management to the next level using an innovative and unique environment. Having managed a Montreal Ball Hockey league and worked as a Web Designer/Developer for over 7 years, no one else could be better qualified to lead this project and deliver to Hockey Players around the globe a new, fun and easy way to manage their Hockey Life.
Contact:
Gino Sciretta, Founder and Webmaster
sportalOnline
+4179 832 6218
http://www.sportalOnline.com
###