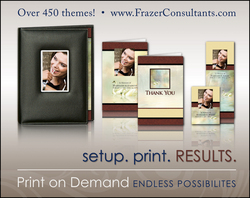 Personalize a funeral like never before
Waunakee, WI (PRWEB) February 6, 2010
When you are saying goodbye to a loved one for the final time, you have to make it count. At today's funerals, you might hear the buzzword "personalization" but you might not be sure what that means. It's really quite simple — it is creating a tribute for a loved one that is as unique as the life that he or she had lived.
The way to do personalization properly is to start with a blank piece of paper. Then shared memories are turned into words, and photographs are selected to create an iconic image that is personal, unique and specific. Frazer Consultants' new Life Journey Celebration Stationery leaves the generic behind and allows you to work with a funeral home to commemorate a loved one's life well lived — all from that same blank piece of paper.
"The current state of printing technology and our own research has created a perfect storm that could revolutionize the funeral home stationery process," says Matt Frazer, president of Frazer Consultants. Frazer partners with funeral homes to offer its print-on-demand service to create a meaningful tribute in no time at all.
The starting point for the Life Journey Celebration program is an easy-to-use software package that offers more than 450 themes available to capture a loved one's interests, hobbies or occupation. Each theme includes a layout for a register book, memorial folder, prayer card, acknowledgement, bookmark, sign and DVD packaging for personalized stationery that matches any interest, hobby, occupation or religious background. These tributes are given out to family and friends at the service and will serve both as a personal keepsake and tribute to a loved one.
These themes act as a frame to allow a family to take the process a step further and incorporate personal family photos to create a truly unique expression that reflects personal memories of a loved one. The possibilities are endless.
The Life Journey Celebration program delivers the "wow-factor" for the family because the package allows for endless design possibilities. "When you talk about personalization, how can a funeral home be happy if they only have seven or eight themed packages? That's a pretty narrow spectrum when you think about all the different interests, hobbies, occupations or religious backgrounds," Frazer says.
Ask your funeral director if he carries Life Journey Celebration Stationery. For a final tribute, a family should not have to settle for "close enough."
For more information, visit our web site at http://www.frazerconsultants.com or call 866-372-9372.
# # #