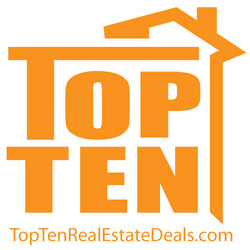 South Bend, IN (Vocus) February 5, 2010
TopTenRealEstateDeals.com announces the release of their latest top ten list: The Top Ten Most Romantic Homes For Sale.
The homes in the The Top Ten Most Romantic Homes For Sale list were selected by using criteria based on a mix of location, history, and design which when combined create the perfect atmosphere for love. Examples of homes include a Smokey Mountains home nestled in the mountains, a historical Upper East Side New York home, a celebrity penthouse in Dallas, a Boston home frequented by the renowned poet, Longfellow, and a grand estate overlooking San Francisco Bay.
"The romantic homes on this list give Love a street address. When Love has a home, every day is romantic!" states Jason Wakefield, Marketing Director for TopTenRealEstateDeals.com.
To view the Romantic Homes List visit: http://www.toptenrealestatedeals.com/homes/featured/2010/the-top-ten-most-romantic-homes/
The list is available to media outlets for publication.
For further information, list publication, to request an interview with a company representative, or if you are a real estate agent and would like to become a Top Ten 'Concierge' Agent for your market, please contact Jason Wakefield at press(at)toptenrealestatedeals(dot)com.
Contact:
Jason Wakefield
Marketing Director
TopTenRealEstateDeals.com
574-204-2295
press(at)toptenrealestatedeals(dot)com
###