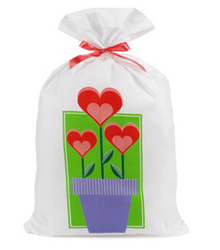 "At the Pajama Company we say you should share the holiday with all the people you love."
New Canaan, CT (PRWEB) February 6, 2010
The Pajama Company, the popular online retailer of sleepwear, gifts and accessories, announces its first ever sale of Valentine's Day Grab Bags. These specialty packages come with small gifts and instructions on how to share the holiday of love with the whole family.
"Valentine's Day isn't just about treating that one special person," says The Pajama Company founder and president Ellie Badanes. "At the Pajama Company we say you should share the holiday with all the people you love."
The Grab Bags are modeled after Ellie's family tradition and are designed to be shared through an activity for a family or group of friends.
"Each person takes a turn closing his or her eyes and picking something out of the grab bag," says Ellie. But there's a catch: the picker then has to decide who else in the group should get that gift.
"It's a great way to honor all the people you love and help everyone feel special this Valentine's Day," says Ellie.
The Pajama Company is offering three options of Grab Bags ranged in price from $50 to $100. Each come with a selection of books, chocolate and accessories all wrapped in a specialty Valentine's Day pillowslip.
About the Pajama Company:
The Pajama Company was founded in 2004 with a mission to spread happiness through pajamas. At http://www.thepajamacompany.com shoppers can find a selection of 12 brands of pajamas for men, women, and children and a large variety of gifts and accessories.
For more information on The Pajama Company or on the Grab Bags or to schedule an interview with founder Ellie Badanes please contact media (at) thepajamacompany (dot) com or call 877-757-4386.
###