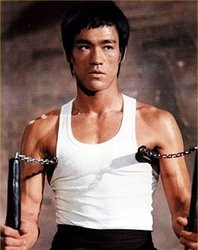 I'm overjoyed that we have the opportunity to work with BruceLee.com, and by extent, Bruce Lee Enterprises. As their official SEO Agency, we'll do everything in our power to improve their web presence!
Los Angeles (PRWEB) February 4, 2010
Jean-Pierre Khoueiri, CEO of ConstantClick, is proud to announce that BruceLee.com has chosen online marketing company ConstantClick as its official SEO agency to increase visibility online.
"I'm overjoyed that we have the opportunity to work with BruceLee.com, and by extent, Bruce Lee Enterprises. They took a huge step forward in protecting and promoting the official legacy of Bruce Lee by launching the website last July, and we can't wait to increase its already-substantial profile online. There's only one home for the Bruce Lee brand on the internet, and we're thrilled to be working to promote it."
Serving as the hub for "all things Bruce Lee online," the site 0ffers fans a rich experience, full of photos, videos, exclusive written content, an online store, and extensive information about Bruce Lee's martial arts philosophy, Jeet Kune Do. As the site's popularity continues to build, Bruce Lee fans from around the world are making it the primary community destination for his legacy.
Constant Click will ensure that BruceLee.com continues to gain traffic and community contributors on a daily basis. By optimizing its content for searchability, extensively promoting the unique writing and content on the BruceLee.com blog, and ensuring that fans can find the latest — and most reliable — information on Bruce Lee from one single, official source, Constant Click's SEO services will help make BruceLee.com the leading online hub for everything connected to the Lee legacy.
"We help you get found online — it's as simple as that," said Jean-Pierre. "Whether it's the website of the world's most respected martial artist and beloved actor, or any of our dozens of clients who rely on us to increase their visibility online — we get it done, and increase our clients' rankings with nothing but honesty and reliability."
About Constant Click:
Founded by CEO Jean-Pierre Khoueiri, Constant Click has been delivering successful, leading-edge Internet marketing strategies to its clients since 2005. Their dedicated team and online marketing gurus have increased traffic — and sales — for dozens of sites, achieving top rankings and big-time conversions for LondonHotels.com, Popcornopolis.com, ExoticCarRental.com and many more.
###