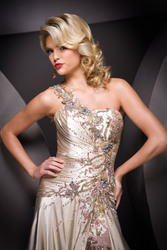 Whether he is presenting his new collection or he is showing you fabric swatches or sketching a new design, he does it with such precision. He is a true artist and I really enjoy watching him at his work
Lilburn, GA (PRWEB) February 5, 2010
CinderellasGowns also known as, Cinderella's Closet is so excited to announce the Trunk show of the Season, the "Tony Bowls Prom Dress Trunk Show". For the start of the Prom Season Cinderella's Closet has chosen Tony Bowls for the month of February to premier his collections of beautiful prom dresses. Cinderella's Closet will have a huge inventory of dresses from each of his collections to try on and purchase. In the world of evening fashions, to be successful a designer needs to rise above the competition and stay on top. That is what Tony Bowls has done, and Cinderella's Closet has the privilege of showing these glorious prom gowns to girls everywhere.
Tony Bowls has excelled as The Prom and Pageant Designer for many years now. His designs have graced the red carpets, magazine covers, world class pageants, along with high school proms everywhere. Tony Bowls has 5 different collections that he has put together and Cinderella's Closet will have all 5 collections to preview; including, Tony Bowls Evenings, Tony Bowls Le Gala, Tony Bowls Paris, Tony Bowls Collection, and Tony Bowls Shorts. Tony Bowls Evenings dresses are made from top of the line rich fabrics with hand beading and couture style. Tony Bowls Le Gala dresses are perfect for young women with interest in fantastic colors or ball gowns. Tony Bowls Paris dresses are ideal for prom with vibrant prints, cut-outs, and mermaid style cuts. The Tony Bowls Collection is geared towards the pageant customer with couture inspired designs and elegant beading. Tony Bowls Shorts dresses are fun for formal and informal events with unique designs and playful fabrics.
Tony Bowls is absolutely one of Cinderella's Closet's favorite designers. He is incredibly talented at designing sultry couture gowns. When prom girls are trying to decide on a prom dress it is so difficult because they are all so beautiful. As a buyer for Cinderella's Closet, Tammy Ussery has said that, "It is even difficult for me to choose when buying for the store." Each dress has its own personality and the meticulous details that Tony Bowls puts into each design is amazing.
"I know Tony personally and he is a really great guy. He is a perfectionist at everything he does. Whether he is presenting his new collection or he is showing you fabric swatches or sketching a new design, he does it with such precision. He is a true artist and I really enjoy watching him at his work," said Tammy, owner of Cinderella's Closet.
Tony Bowls is totally in touch with how prom girls want to look when going out for this special night. He knows that she wants to stand out and look beautiful, feel special. His prom gowns have a way of making each girl look radiant. His fit is sensational, his colors are gorgeous, and his fabric and styles are chic. Cinderella's Closet carries all of Tony Bowls' collections giving the customer a huge selection of prom dresses to choose from. Throughout the trunk show customers will be able to purchase any prom dress, pageant dress, or cocktail dress that Cinderella's Closet has to choose from.
Also on Sunday, February 14th Cinderella's Closet will be working with special guest, Premiere Models and Talents, to bring a professional makeup artist, photographer, and talent coach to do headshots for $150.00, a $500 value. Premiere Models and Talents will also be giving away a one year modeling contract.
Be sure to come to Cinderella's Closet and see this spectacular collection of Tony Bowls Prom Dresses.
###