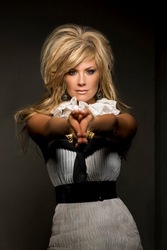 "I was so lucky to get a sneak peak at the new RUSK Deepshine Oil coming out soon, and now I'm obsessed! When you have to stand next to the world's top celebrities, you want to shine yourself, and my hair does just that after using RUSK Deepshine Oil!"
Stamford, CT (PRWEB) February 18, 2010
Leading international professional hair care line RUSK is pleased to announce award-winning journalist, author, producer, entrepreneur and red carpet mainstay well-known for her 13 year run as co-anchor of Access Hollywood, Nancy O'Dell, as the official spokesperson for RUSK and BaBylissPRO. A famed TV host and entertainment reporter, Ms. O'Dell is also a wife and mother balancing a family and thriving career. She is known for her red carpet interviews and her presence at many celebrity events, as well as her philanthropic efforts, most notably through her foundation, Betty's Battle (BettysBattle.org), which she formed in honor of her mother, who passed away from ALS in 2008.
Aside from being an original member of the Access Hollywood team and serving as co-anchor for 13 years, Ms. O'Dell has hosted The Golden Globes Arrivals Special and The Tournament of Roses Parade for nine years, the backstage portion of The Golden Globe Awards telecast, and the Emmy Awards Red Carpet pre-show for NBC, ABC, and Fox. She has hosted many other high-profile events throughout her career, guest-starred on several Emmy-nominated television series, competed in the Miss America Pageant, and has been honored with three Associated Press Awards, two Society of Professional Journalists (SPJ) Awards, and an Emmy Award, all while remaining a loving and devoted wife and mother to three children. Most recently, Ms. O'Dell was honored by the entire beauty industry with the inaugural Beautiful Humanitarian Award, an award given by the Professional Beauty Association to a public figure who exemplifies beauty both inside and out.
RUSK and BaBylissPRO have realized that a partnership with Ms. O'Dell would be the first time a professional salon brand has a Hollywood spokesperson of this magnitude. It will really elevate the brands in stylists' eyes and help RUSK and BaBylissPRO salons build up a loyal clientele. Since salon clients often follow celebrity looks and Ms. O'Dell is always on the forefront of the red-carpet trends, she is the ideal person to help translate the celebrity looks into everyday, wearable styles.
Additionally, Ms. O'Dell has been a long-time fan of the lines, and her values are right in line with those of the brands. As stated by Brooke Carlson, VP of Conair Professional Brands, the parent company of RUSK and BaBylissPRO, "We believe everyone should be as beautiful as possible, both inside and out, and giving of yourself to others less fortunate shows true inner beauty. It's an honor to have someone as beautiful as Nancy – both inside and out – as our spokesperson. Not only does she shine on the red carpet with celebrities, she is relatable to many women balancing career and family. She also has a great eye for hair, fashion and accessories. She knows what works and what doesn't."
States Ms. O'Dell on her partnership with RUSK and BaBylissPRO, "As a busy mom, wife and journalist, I feel I am representative of the many women hairstylists across the country see on a daily basis. I know I trust the stylists' opinions about which products to use. And that is how I originally started to use RUSK and now BaBylissPRO."
"Nancy understands better than anyone that even if a celebrity is wearing an expensive gown, jewels and accessories, if the hairstyle is not right, the whole look can be a miss. I love that about Nancy. She really understands the importance of having great-looking hair for day or night. We are very pleased to have her as our spokesperson," states Lee Rizzuto Jr., Senior VP of Conair's Professional Group.
RUSK announces the partnership with Nancy O'Dell along with her favorite products: RUSK Deepshine® Lusterizer, W8less™ and W8less™ Plus Hair Sprays, Wired™ Flexible Styling Crème and, coming soon, Deepshine Oil, a marine-mineral-enriched argan oil treatment. "I was so lucky to get a sneak peek at the new RUSK Deepshine Oil coming out soon, and now I'm obsessed with it! When you have to stand next to the world's top celebrities, you want to shine yourself, and my hair does just that after using RUSK Deepshine Oil!" states Ms. O'Dell. Ms. O'Dell's favorite new styling tool is the BaBylissPRO U Style Iron.
To find Nancy O'Dell's favorite RUSK and BaBylissPRO products, visit your favorite professional salon including Ulta. For a salon near you, or for more information, log on to http://www.rusk1.com and http://www.babylissus.com.
About Rusk
Fashion + Culture + Attitude Internationally renowned leader in the professional salon industry, RUSK is one of the only professional companies to provide a full range of products and tools for salons and their clients. RUSK products allow stylists to use innovative and imaginative techniques to provide their clients everything from the latest runway looks to the next "must-have" hair trend. From Deepshine® Hair Color and RUSK™ Professional Engineering tools to Sensories™ Professional Hair Care and the Designer Collection™ styling and finishing range, RUSK products are available at salons internationally. Visit http://www.rusk1.com.
###