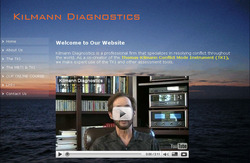 "This course has given me a better understanding of the five conflict modes, their linking to the MBTI, and the practical aspects of the application of this knowledge in problem solving."
Newport Coast, CA (PRWEB) February 5, 2010
Kilmann Diagnostics offers an eight-hour, online course: Advanced Training in Conflict Management. This live course provides expert knowledge about using the Thomas-Kilmann Conflict Mode Instrument (TKI) and the Myers-Briggs Type Indicator (MBTI) to improve—and renew—organizations. At the end of the course, upon successful completion of a final exam, participants will receive a "Certificate for Advanced Training in Conflict Management."
The online course is designed for trainers, consultants, mediators, negotiators, project managers, human resource managers, and task-force leaders who want to gain more in-depth knowledge about the TKI, the MBTI, and how such assessment tools can be used for managing complex problems -- and their many conflicts. In addition, engineers, lawyers, physicians, and therapists will also learn useful knowledge for more effectively managing their conflict-rich settings.
To learn more about the online course, please attend the Free Webinar. A thirty-minute presentation will be followed by thirty minutes of question-and-answer discussion on conflict management. Sign up for our Free Webinar by completing this form: https://www1.gotomeeting.com/register/320378913.
The next online class on Advanced Training in Conflict Management will be conducted on February 18-19, 2010, from 8:00AM PST to 12:00PM PST on each day.
# # #