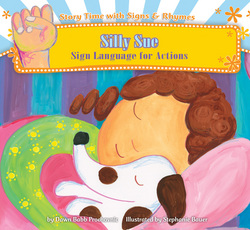 We know educators and parents will want these wonderful books once they begin to teach these signs to their kids using our glossaries
Minneapolis, MN (Vocus) February 5, 2010
The ABDO Publishing Group announced today that the illustrated glossaries of American Sign Language (ASL) terms from their new Story Time with Signs & Rhymes series of eight books would be made available for free downloading, copying and use for educators and parents. The illustrated glossary from each picture book in the set will be posted on the publisher's Web site, http://www.abdopublishing.com.
One of the first children's book series to incorporate sign language into the actual text of the stories, Story Time with Signs and Rhymes was written by Dawn Prochovnic, a certified Sign2Me™ presenter and the creator of "SmallTalk" workshops she designed to help parents of hearing babies and toddlers teach signing to children before they become verbal. Each story uses rhythmic language, rhyming words, and signs to help children learn and have fun with sign language, all featured on colorful art young readers will love. Back matter includes the illustrated sign language glossary, additional resources lists, signing activity ideas, and more.
"We're thrilled to offer this wonderful list of over 80 common words in illustrated sign language glossaries from our picture books for today's parents and educators," noted ABDO President Jill Abdo-Hansen. "Research shows how babies and toddlers can learn signs and communicate before they acquire speech, and how that skill increases literacy as they get older," she said. "We knew this series would be a timely and welcome addition to our list," she noted. "We couldn't be more pleased with the reaction we're getting from our customers who are using the books with hearing children, and in schools with deaf and hard-of-hearing students, too."
An interview with the series author is available at the publisher's site, and includes tips for parents and teachers who want to make signing fun for kids of all ages, whether they are deaf or can hear. "I encourage my workshop participants to think of signing as a type of finger play," Prochovnic said. "Just as we naturally engage children with the hand gestures that accompany 'Patty-Cake' or 'The Itsy Bitsy Spider,' we can engage children with American Sign Language hand gestures. By modeling one or more of the ASL vocabulary words that repeat throughout the story, the reader creates a dynamic, educational finger-play experience. Before long, even very young children will join in and mimic the signs," she added.
The illustrated glossaries include signing instructions for food, farm animals, animals, school activities, vehicles, actions, colors, and clothing. "We know educators and parents will want these wonderful books once they begin to teach these signs to their kids using our glossaries," said Stephanie Hedlund, the Editorial Director for ABDO's Magic Wagon division. "And we encourage them to send us their signing stories by e-mailing info(at)abdopublishing(dot)com, so we can share online how our books are being used in classrooms, homes, and libraries," she added.
The family-owned ABDO Publishing Group is celebrating its 27th year in business, and publishes educational nonfiction, fiction, and interactive CDs under their ABDO Publishing Company, Spotlight, Magic Wagon, and ABDO iBooks divisions.
For more info or review copies: Dan Verdick, Director of Marketing • Office (952) 698-2404 • Cell (952) 240-9419 • dverdick(at)abdopublishing(dot)com
###