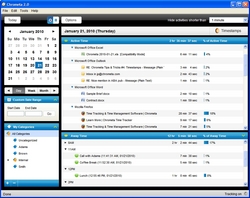 Keeping track of time is an important part of a legal career no matter if you're in law school or a partner at a large international firm
Sacramento, CA (PRWEB) February 5, 2010
Chrometa LLC, creator of productivity and time capture tools, today announced that it will offer its personal time management software free for law students and faculty. Chrometa 2.0 is available online for $99, but is free to current law school students, faculty and staff.
"Keeping track of time is an important part of a legal career no matter if you're in law school or a partner at a large international firm," said Brett Owens, CEO and co-founder of Chrometa LLC. "Most of today's students will have to keep track of their time and activities when they enter the workforce, so we want to make sure they are proficient with all of the available tools."
How to Take Advantage of This Special Offer

Law students, faculty and staff can download the free trial version of Chrometa 2.0 from http://www.chrometa.com.
Send an email to Chrometa support staff at sales@chrometa.com from your school (.edu) address.
You'll receive a complimentary license code within 24 hours.
Keep up to date on time tracking with our blog at http://www.chrometa.com/blog/ or follow us on Twitter.com/Chrometa.
Pricing and Availability
Chrometa 2.0 is available now for a free 30-day trial (no credit card required) at http://www.chrometa.com or call (916) 254-0260 to speak with a company representative. Chrometa is available immediately for a $99 one-time fee, which includes free email support. Multi-user licenses and contracts are available. Chrometa has dedicated representatives standing by to assist with product installation and support.
About Chrometa LLC
Chrometa LLC, headquartered in Sacramento, CA, is in the business of saving time and maximizing efficiency. Chrometa LLC's time tracking tools are utilized by high-paid professionals to enhance revenue and gross billings. Please visit http://www.chrometa.com for more information.
# # #