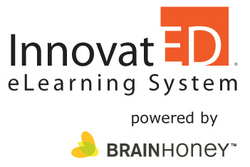 "We're here with InnovatED to help schools disrupt last-century learning with 21st century technology, to provide every student access to an exceptional education."
Tempe, AZ (PRWEB) February 8, 2010
InnovatED, an online learning provider, is pleased to announce the addition of the BrainHoney platform to their education solution. Under the agreement with Agilix, the creator of BrainHoney, InnovatED will act as a value-added reseller (VAR), adding significant enhancements to the BrainHoney platform. BrainHoney is designed to provide a dynamic and engaging learning environment for students in grades K-12. The inclusion of the BrainHoney platform into the InnovatED e-Learning System (ELS) means that InnovatED will serve a greater segment of the educational space by delivering a wide-ranging solution that combines state standards, customized curriculum, multimedia content and assessments.
"By including BrainHoney into the comprehensive suite of existing products that make up the InnovatED ELS offering, we have dramatically increased the functionality of our system for teachers at all grade levels," said InnovatED CEO Dr. Michael Matwick. "We will now be able to provide a single platform; upon which a school district may build its strategies to enhance classroom instruction, extend into blending learning models, and deliver alternative education offerings, all through the same environment. This is a ground-breaking opportunity to create a cost-effective solution that meets a wide spectrum of needs."
In today's economic climate, schools are faced with the reality of shrinking budgets, growing student populations and dwindling staff sizes. With the addition of BrainHoney, InnovatED's platform is a financially responsible answer to these harsh realities. This ELS helps educators meet the needs of individualized learners as well as satisfying standards set by institutions and government. Teachers and administrators can efficiently and effectively track, in real-time, student progress throughout their courses. The revolutionary design of InnovatED's ELS incorporates a gradebook, course content, assignments, state-standards, and assessments with tools that make it easy for teachers and fun for students, while providing concrete performance data for administrators.
Curt Allen, Agilix CEO, applauded the partnership stating, "InnovatED powered by BrainHoney, represents a next generation individualized learning solution that will ultimately replace outdated grades and course based learning management systems. We've made the student our focus and leverage outcomes, standards and data to deliver every student a personalized learning experience," Mr. Allen concluded. "This solution is the beginning of the end of the one-size-fits-all education system that has left so many students underserved and disenchanted. We're here with InnovatED to help schools disrupt last-century learning with 21st century technology, to provide every student access to an exceptional education."
InnovatED is the provider of a unique online school learning program; a single learning environment for ALL of an institution's education needs. Through the use of online courses developed by subject matter experts, teamed with leading edge e-text books and other supporting educational tools, educators have at their finger tips the means to effectively engage students in the learning process.
InnovatED's online learning program has been helping schools for more than 10 years. Its implementation in a variety of settings, (small charter schools, large school districts, drug rehabilitation centers, etc.) has proven beneficial to administrators, educators and students. Partners of InnovatED have shown, through management system statistics, a more than 75% course pass rate with the implementation of the InnovatED program. To learn more about InnovatED, visit their website at http://www.innovat-ed.com.
###