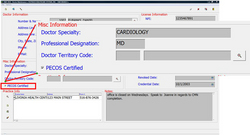 Plainview, NY (Vocus) February 5, 2010
To overcome the difficulty in utilizing the PECOS enrolled physician list released by CMS, Fastrack is the first software vendor providing its clients a fully automated solution.
Fastrack has automated the downloading of the PECOS database from within their application that automatically compares the enrolled physicians with the physicians in the Fastrack client's database. If found on the list, the physician record is marked as being PECOS enrolled. Those physicians not in the PECOS database will appear on a Fastrack report that the provider can use for follow-up with the physicians. Fastrack also provides a count of the number of physicians found to be enrolled and those not enrolled. Each time CMS updates the database clients can run this simple to use process. This is another free service available to all Fastrack HME, Infusion Pharmacy and Home Care Agency clients and is available today for downloading from their client website.
According to Spencer Kay, President of Fastrack Healthcare Systems, Inc., "We are pleased to be the first to offer this service and overcome the use of the PDF format by CMS. To insure that orders are not being processed after April 1st, Fastrack has added a warning in order entry, direct billing, RX entry, etc. to alert the user that the physician is not PECOS enrolled. Fastrack hopes to eliminate orders from being billed to Medicare that will be denied due to a physician not being enrolled as well as help our clients be pro-active in encouraging physicians to enroll."
Fastrack is the leading provider of software & technology to Home Medical Equipment, Durable Medical Equipment, Respiratory Providers, Home infusion Pharmacies & Home Healthcare Agencies. Only Fastrack offers a solution for each individual segment of Home Care as well as one system encompassing virtually every clinical, operational and financial aspect of a provider offering several or all of these product/service lines within one integrated database. For further information contact FASTRACK Healthcare Systems, Inc. 255 Executive Drive, Plainview, N.Y. 11803; 1-800-520-2325, fax: 516-349-8875, or visit their Website: http://www.onlyfastrack.com
###