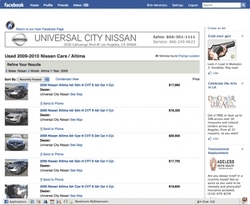 To us, mobile and social networking are very much interconnected.
Calabasas, CA (PRWEB) February 9, 2010
Gumiyo ( http://www.gumiyo.com ), a leading provider of mobile marketing solutions, announced today the release of their free MyShowroom Facebook application for use by retail automotive dealers interested in using the social networking site to promote their inventory and stores.
The application is included as a component of Gumiyo's Mobile Ready Platform which is in use by a number of automotive solutions providers and media companies to build and offer value-added, privately-labeled mobile marketing solutions to their dealer customers.
Because of Facebook's enormous popularity and demographic reach, especially among the next generation of car buyers, dealers have been creating their own pages and experimenting with how to leverage the site to reach them. For the most part, dealer Facebook pages contain model information and tips, new car videos and photos from the manufacturer, and information about the dealership. In addition, dealers are also employing social networking as a reputation management tool in order to highlight "excellence in service," "no-hassle deals," and other promotions to attract on-lot visits.
However, dealers have lacked a way to automatically syndicate their inventory into their Facebook pages and implement social networking into their overall lead-generation strategies. Without the inventory a critical component is missing.
"To us, mobile and social networking are very much interconnected," states Shuki Lehavi, Gumiyo's co-founder and president. "Not only are the usage demographics similar but an enormous percentage of social networking activity occurs through a mobile phone. As Facebook continues to extend its platform into the mobile space, Gumiyo will be right there with it. We are committed to ensuring that our partners can offer their dealer customers an up-to-date and comprehensive approach to the latest in interactive marketing."
Upon installing the Gumiyo MyShowroom application into a dealer's Facebook page, friends and consumers will see a MyShowroom tab from where they can browse and search vehicle details, photos, and specials. CARFAX® Vehicle History Reports™will be available in a future release. Consumers can also send vehicles-of-interest to their mobile phones for later recall when they are visiting the dealership, and they can easily generate a vehicle-specific lead that is directed to the dealer.
More information about MyShowroom will be available from Gumiyo and its partners at NADA on February 12-15. Dealers can contact their mobile marketing solutions provider, mobile inventory provider, or Mobile Web site provider to determine if it is powered by Gumiyo's platform. Dealers interested in early access can contact sales(at)gumiyo(dot)com or visit the MyShowroom Facebook page at: http://www.facebook.com/apps/application.php?v=app_263899238533&id=263899238533
About Gumiyo (http://www.gumiyo.com)
Gumiyo is a mobile solutions company and provider of the Mobile Ready Platform, a flexible suite of tools and services that enables nearly any business to combine iPhone applications, SMS, and the Mobile Web to:

Launch a consumer-facing mobile presence
Publish data, content, inventory and listings to mobile phones
Run comprehensive mobile marketing campaigns
As one of the earliest entrants in the field of mobile classifieds and mobile marketing solutions; Gumiyo has built a reputation for expertise in mobile-based programming and strategic planning, mobile content development and monetization, and mobile execution strategies for newspapers and media companies, retail automotive solutions providers, real estate professionals, and marketing agencies.
# # #