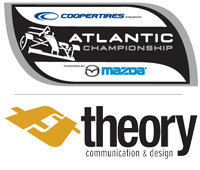 "These guys just get it." Ben Johnston, President, Atlantic Championship
Deerfield Beach, FL (PRWEB) February 8, 2010
The Cooper Tires presents the Atlantic Championship series Powered by Mazda, North America's longest running racing series, assigned Agency of Record duties to Theory Communication and Design, a full service automotive-focused agency.
Theory Communication and Design has a strong history of working in motorsports and was fundamentally founded around the automotive marketplace and racing. Motorsports is a key pillar of the Theory philosophy. Many of the members of the Theory team have personal experience in racing and even more experience in brand building. "These guys just get it," said Atlantic Championship President Ben Johnston. "Ever since I first sat down with the Theory team, I could just tell they knew how to help take the Atlantic Championship Series to the next level. I have such a deep passion for this series and I can feel that same passion inside of the entire Theory team. I have no doubt that they will help bring a lot of buzz and attention to the series, racers, teams and sponsors."
"The Atlantic Championship series has done so much for the racing community and helped provide that much needed launching pad for some of the best drivers we see on the race track today. To have the opportunity to support the series that has given so much to the racing community is an honor and truly special," said Andy Williamson, President of Theory Communication and Design. "We're considering this effort more of a mutual partnership and we're heavily invested in making this series really something extraordinary. We're excited to be working with Ben and his enthusiasm is just what the Atlantic Championship needed." Official duties for Theory Communication and Design will focus around public relations, marketing strategies, design work and event activation.
About Atlantic Championship:
The Atlantic Championship series is the premier ladder series for up-and-coming professional race car drivers around the world. For more than 36 years, the Atlantic Championship has facilitated the launch of racing careers into Formula 1, NASCAR, IndyCar and other forms of professional motorsport. Atlantic Championship vehicles are ultra-lightweight, powerful, open-wheel race cars that help prepare drivers for top tier global racing environments. For 2010, Mazda and Cooper Tire title sponsor the Atlantic Championship and provide some of the world-class components used in competition. For more information please visit AtlanticChampionship.com.
About Theory Communication and Design:
Theory Communication and Design has been serving the automotive industry since 2005. Theory has quickly become one of the premier automotive agencies in the industry through Public Relations, Marketing, Media Management, Digital Enterprise, Media Buying, Athlete Management and Design services that they provide as the Agency of Record for clients such as ExxonMobil, General Motors and many others. For more information on Theory Communication and Design, please call 954.428.1800 or visit TheoryConcept.com.
###