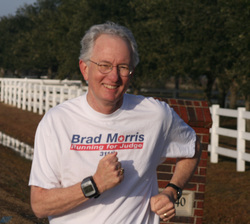 I love Houston and the diversity of people living in Harris County. I believe the diversity of our community is one of our greatest strengths.
Houston, TX (PRWEB) February 5, 2010
Brad Morris, an experienced family law attorney, mediator and former associate judge, is running for Judge of the 311th Family District Court in Harris County – literally!
On January 1, Morris began a 57-mile run across Harris County that will take him from the far eastern boundary of Harris County straight across to Katy on the far west end.
Running on weekends leading up to February 16 – the first day of early voting in the March 2 primary – Morris began his first leg of the journey on January 1 at the San Jacinto Monument in east Harris County and will end the run at the Metropolitan Multi-Service Center, 1475 West Gray, where he will cast his vote in the primary election.
An avid long-distance runner, Morris decided to run across Harris County to get a ground-level understanding of the citizens he will serve if elected to the 311th, one of nine family courts in Harris County. He plans to visit with constituents at the end of the eight- to 10-mile legs along his journey. "I want to get my name out among voters and what better way to meet citizens and understand my constituency than to literally run the neighborhoods and along the streets where they live and work?"
A graduate of Rice University and South Texas College of Law, Morris has been practicing family law since 1998. He is board certified in family law and is certified as a distinguished mediator by the Texas Mediator Credentialing Association. He recently received the endorsement of the Harris County Democratic Elected Officials
Fluent in Spanish, Morris believes the diversity of people in Harris County is one of the community's greatest strengths. "I will strive to run a courtroom that represents all citizens of Harris County."
Morris' next leg of his run is scheduled for this Saturday and will start at 7:30 A.M. at the intersection of Highway 6 and Richmond Ave and end at the intersection of Richmond Ave., and South Gessner. Sunday at 7:30A.M., Brad will continue his run beginning at Richmond at Gessner and ending at Richmond at Weslayan.
###