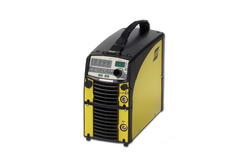 Florence, SC (PRWEB) February 8, 2010
ESAB Welding & Cutting Products introduces the new Caddy™ Tig 2200i AC/DC portable welding machine, designed to deliver quality Gas Tungsten Arc (TIG) and Shielded Metal Arc (Stick) welds in a variety of materials for the demanding professional. This fifth generation of Caddy machines features advanced inverter technology to deliver unparalleled welding quality and performance and offers a compact design with an impact-resistant polymer and aluminum casing that is light and easy to carry, yet stands up even in demanding environments.
The new control panel presents all welding parameters in an easy-to-understand layout. ESAB's two-program function allows pre-programming and program changes during welding. Caddy Tig offers a pulse TIG feature for greater control of heat input and the weld pool, and a Micro Pulse feature that minimizes the heat-affected area, particularly with thin metals. Other features include a Hot Start and Arc force settings.
Caddy Tig 2200i is equipped with large cable connectors for high durability. Large heat sinks and an innovative design create a cooler running machine with a longer life expectancy when used in harsh working environments. This ensures that the small size of the machine does not compromise the cooling of vital internal components. The design also helps to keep all sensitive parts inside the machine clean and dust free.
All Caddy machines are built in accordance with IP23 for outdoor use, even in the rain. These machines are also equipped with a PFC (Power Factor Correction) circuit that allows the machine to perform a full range of functions on a 16A fuse, protects against fluctuating mains voltage, and makes the machine safer to use with a generator.
A Caddy™ Tig 1500i single-phase DC/CC version is also available.
With more than 100 years of experience, ESAB Welding & Cutting Products is one of the world's largest and most knowledgeable manufacturers of welding and cutting equipment and welding filler metals. To ensure customer satisfaction, many ESAB products carry a 100% Satisfaction Guarantee. Recognized as the technological leader in the industry, ESAB is committed to providing customized solutions for its customers. For more information on the Caddy family, visit http://www.esabna.com/us/en/products/caddy.cfm or call 1-800-ESAB-123.
###