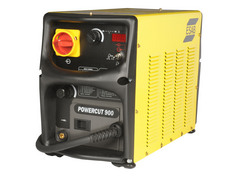 Florence, SC (PRWEB) February 22, 2010
ESAB Welding & Cutting Products introduces the PowerCut™ 900 manual cutting package. The latest in a family designed to pack big cutting power into a lightweight portable package, the PowerCut 900 makes cutting easier and more economical by simplifying operation, reducing set-up time and enhancing consumable life. The 60-amp PowerCut 900 cuts 7/8 in. (22 mm) and severs 1-1/4 in. (32 mm).
Like the other PowerCut models, PowerCut 900 offers the highest speed and thickness capability in its class, with high duty cycles for outstanding productivity and performance. Through a combination of long parts life, high speeds and simple torch design, the PowerCut series offers the lowest cost per foot of cut of any machine in its price class. This power is contained within a durable external housing designed to be damage resistant, corrosion resistant and weather resistant while remaining lightweight for portability. Sensitive internal electronics are suspended from the aluminum frame, insulating them from shock and vibration. Silicone sealed switches are immune to corrosion and dust and dirt infiltration.
PowerCut 900 also offers a Tool-less Quick Disconnect Torch that disconnects from the machine without the use of wrenches or special tools, allowing easy disassembly for storage, repairs or replacement or to attach a mechanized torch for mechanized applications. An easy-to-read Digital Readout Display shows the exact pressure or amperage, allowing users to operate with confidence. The display also shows Help Codes to assist in troubleshooting minor errors, thereby reducing downtime.
Blow Back Technology eliminates high frequency startups that can disrupt CNC controls and nearby computer systems. PowerCut 900 also features an automatic Mode Selection function that senses which cutting mode is in operation (Normal Cutting, Gouging and Grate Cutting) and adapts accordingly.
Additional features include a side-mounted Automatic Fan Control that allows the fan to run only when necessary to conserve energy and reduce ingested dust and dirt; a Built-in Power Line Conditioner that protects against damage from power line noise and spikes, even with poor quality power; a Torch Wrap and Spare Parts Kit Holder allowing convenient storage of the torch and spare parts in the consumable box; and a Plug N Play Mechanized Option that transform the manual cutting system into a powerful mechanized system for a gantry machine.
The new PowerCut packages also come with a three-year warranty and an option to purchase an extended warranty for a total of five years.
With more than 100 years of experience, ESAB Welding & Cutting Products is one of the world's largest and most knowledgeable manufacturers of welding and cutting equipment and welding filler metals. To ensure customer satisfaction, many ESAB products carry a 100% Satisfaction Guarantee. Recognized as the technological leader in the industry, ESAB is committed to providing customized solutions for its customers. For more information on ESAB PowerCut plasma solutions, visit http://www.esabna.com/powercut/ or call 1-800-ESAB-123.
###