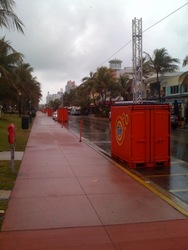 showing off your own personal style
Miami, FL (Vocus) February 6, 2010
With all eyes on Miami for Super Bowl XLIV, Gigunda Group went the extra mile – airing some clean laundry on a blocks-long clothesline to raise money and awareness for those in need.
From Feb. 4 – 6 Gigunda's street team takes over a stretch of beachfront real estate along Ocean Drive in Miami Beach with the interactive Tide Mile of Clean Style/Stain Brain Experience, an immersive branded experience that combines goodwill with good clean fun. The event runs from 11 a.m. to 9 p.m. daily.
Gigunda's challenge was to incorporate several themes into one high-profile event: Fundraising to benefit Haitian earthquake victims; helping to clothe local homeless families in need; getting Tide's new iPhone Stain Brain App into the hands of the people; capitalizing on the location of this year's Super Bowl; and take advantage of Miami Beach's hot shopping district, where casual clothes reign supreme. The event kicks off Tide's new campaign: "You make it work. We'll keep it clean."
On hand at the event is the Tide Loads of Hope mobile laundry unit, which was launched by Gigunda in 2005 following Hurricane Katrina and which continues to roll, as needed, around the country as a beacon of practical relief in the wake of natural disasters. Here visitors can to get a first-hand tour of the Loads of Hope unit and buy vintage Tide T-shirts, with proceeds going to disaster relief efforts in Haiti.
A beachfront cable clothesline towering 16-feet in the air spans three city blocks, pinned with 300 new articles of clothing for every member of the family, all to be donated to Miami families in need when the program is over. Visitors can pick up samples of Tide products along the way, complimentary bottles of water and receive information about the entire Tide product line.
At the heart of the campaign is a pop-up Tide Studio. Inside, visitors can stop by the free, T-Shirt Creation Station and design an original screen-printed Tide T-shirt. Emphasizing the idea of "showing off your own personal style," Gigunda built an elevated 450 ft. long Everyday Runway, as a way for visitors to strut their t-shirt handiwork. With a live DJ spinning beats and celebrity stylist Jorge Ramon standing by to offer free style consultations and fashion tips, visitors can experience the thrill of the catwalk, and walk away with a wearable brand-centric souvenir.
The Tide Studio also features custom designed interactive kiosk and live demonstrations to spotlight the Tide Stain Brain application, along with a computer station equipped for free downloads of the Tide iPhone Stain Brain App. Visitors can test their personal knowledge of stain solutions against those available through the iPhone appplication, and find out how to contribute their own home stain remedies to the program, using a consumer link built in to the app.
About Gigunda
Based in Manchester, New Hampshire, Gigunda Group is an innovative experiential marketing agency that prides itself on being idea instigators and insight experts. Gigunda has activated experiential programs such as the groundbreaking Charmin Restrooms campaign in New York City and Tide Loads of Hope. In addition to P&G, Gigunda's client roster includes brands such as Sony, Yahoo, Activision, Kellogg's, Nike, GlaxoSmithKline, Mars Snackfood and Stanley.
Last year, Promo Magazine named them the most creative agency in the United States. The company has won more than 60 industry awards since 2007 and was honored with the prestigious P&G Family Care Inspiration Award in 2006.
###