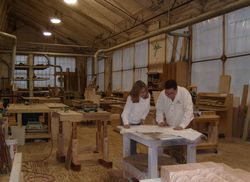 West Chester, PA (PRWEB) February 7, 2010
Though ground has not yet been broken on the sustainable home slated for 60 Bragg Hill in Pennsylvania's historic Chester County, homeowners Barney and Nancy Leonard have chosen Doylestown-based Superior Woodcraft to provide the custom cabinetry. At this early stage, the cabinetmaker's vice president Patrick Kennedy and designer Marci Conti have joined the Integrated Project Delivery team with the homeowners, noted "green"architect Matthew Moger and contractor Mark W. Thompson to ensure that the kitchen cabinetry will reflect the home's aesthetic and ecological vision as well as the Leonard's budget.
The choice of a cabinetmaker was key for the homeowners. "Kitchen cabinets are very personal," says Barney Leonard. "You interact with them every single day. They are a very important part of our family's daily life. Since our vision is to build this home to withstand generations of daily use, we wanted to make a thoughtful choice." After months of interviews and factory tours, the Leonards chose Superior Woodcraft for its quality cabinetry and environmental stewardship. Superior Woodcraft's Patrick Kennedy adds that sustainability is not new to his company. "For generations, we have used only wood from sustainably harvested forests. We emphasize finishes that are low in VOCs (volatile organic compounds) and toxins like formaldehyde. Our plywood contains no added urea formaldehyde (NAUF). And 85% of the waste created in crafting our cabinetry is recycled – we have always strived to minimize waste."
Leonard felt Superior Woodcraft's artisanal craftsmanship was also important. "For us, building a sustainable home means honoring the ecology of the land -- and its heritage. Bragg Hill Road's history stretches from the Revolutionary War through generation upon generation of American farmers. We felt Superior Woodcraft's own history of handing down time-honored skills from father to son was right for our own vision of building a home we could hand down through our own family."
Himself a media consultant, Leonard has been so captivated by Superior Woodcraft's "story" of delivering utility, harmony and beauty that he is working with Kennedy to use the 60 Bragg Hill project to produce a video documentary about the cabinetmaker.
Superior Woodcraft is just one partner committed to making 60 Bragg Hill into a "living classroom" for green design, sustainable construction methodologies and energy-saving technologies.
The project can be watched step by step at the 60 Bragg Hill website.
###