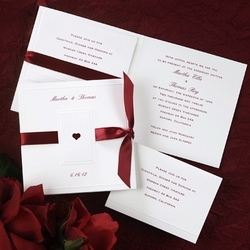 "Wedding-Needs.com has devised a free budget worksheet which helps put the brakes on budget busters"
Pawtucket, R.I. (PRWEB) February 8, 2010
The biggest day of your life should be graced with friends, family and the fiancé of your dreams. Cake, kisses and promises…
The Perfect Wedding. It's the dream of millions of brides, event planners and nervous mothers every year. An estimated 2.1 million weddings are expected in 2010 – maybe even more if the couples who put off nuptials last year decide to take the leap.
"A lot of couples who postponed their weddings because of finances last year are moving forward," said Dario Ferreira, owner of Wedding-Needs.com, an American company that markets elegant wedding invitations and announcements. "Do-it-yourself solutions make a lot of sense right now, but that takes a careful eye on the budget."
Wedding expenditures in the United States have averaged around $21,000 in recent years, but some people are gripping their wallets a little tighter in 2010. With cutbacks and job losses, many families consider bargains and financial boundaries imperative.
"Wedding-Needs.com has devised a free budget worksheet," said Ferreira of Rhode Island. "It helps put the brakes on budget busters. Our website lets you keep track of all your wedding expenses with a password-protected spreadsheet. You can check it as often as you like or print it to take with you when you go to meet a wedding vendor."
Along with its extensive collection of premium wedding invitations and announcements, Wedding-Needs.com offers affordable selections priced under $100 per 100-count order. It even offers a $36.90 bargain on 100 traditional white or ecru-colored panel or card invitations.
"A ballooning budget can really stress out an engaged couple," said Ferreira. "Talk about a joy-killer! That's why we offer cheaper options. Keeping tabs on the bottom line is important or it'll get away from you. …They say there's 'beauty in the details.' That is so true."
Wedding-Needs.com displays hundreds of invitations, announcements and thank-you cards with embossed, pearlized, die-cut, foil-stamped and deckle-edged finishes. It even stocks eco-friendly invites made of recycled materials.
Visitors can browse the recently revamped Website – wider, brighter, larger images, better navigation – and save favorite products by clicking the "Save" icon next to each product.
About Wedding-Needs.com
Established in 2001, Wedding-Needs.com is an online distributor of wedding and bridal shower invitations and other items such as ring pillows, petal baskets, garters, guest books and save-the-date magnets. Headquartered in Pawtucket, RI, the company is owned by entrepreneur Dario Ferreira. The site offers a full line of invitations in all price ranges and also includes print goods for birthdays, first communions, baby showers, graduation parties, anniversaries, quinceaños, and bar and bat mitzvahs.
Contact
Questions? Call Dario Ferreira at 1-(508) 226-5783.
Wedding-Needs.com
Dario Ferreira
Owner
87 Stedman Ave.
Pawtucket, RI 02860
Phone: 1-(508) 226-5783
###