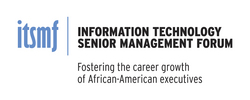 Our symposium is designed to help IT executives discover how to leverage green technologies, services and solutions without compromising the organization's efforts to go green."
Atlanta, GA (PRWEB) February 8, 2010
Businesses know that green is good... for the environment and the bottom-line. But there are questions that IT executives must consider...how do you get started; how do you make the right decisions about going green in IT; and will companies have to choose between IT performance and environmental responsibility?
For answers to these questions and more, attend "Green IT: Sustaining People, Planet and Profits" on February 11th-13th, 2010, at the Fairmont San Jose, in San Jose, California. The event is co-sponsored by the Information Technology Senior Management Forum (ITSMF) -- the only national organization dedicated exclusively to fostering senior-level executive talent among African-American IT professionals -- and the Hispanic IT Executive Council (HITEC) -- founded by senior Hispanic IT executives who have built outstanding careers in information technology.
"There is little doubt about the value of going Green – from reducing energy related costs and shrinking IT operating expenses to meeting regulatory mandates," explained Viola Thompson, Executive Director of ITSMF. "The real key is making the right decisions, leveraging leading-edge technologies, and sustainable practices to help your company achieve green without loosing capabilities, business or staff. Our symposium is designed to help IT executives discover how to leverage green technologies, services and solutions without compromising the organization's efforts to go green."
At the Symposium, IT executives will learn:
The value of the connected workplace -- Learn how new connectivity approaches can improve productivity and bring new levels of mobility and flexibility to your organization;
The power of Collaboration Tools -- Achieve greater information sharing by integrating instant messaging with video and telephony, wikis, blogs and select web and text information;
How to "speak Green IT" to your CEO -- Find out the best strategy for presenting the business value of Green IT to organizational leadership.
Speakers include:
Marisa Chancellor, from Cisco's IT Communication and Collaboration division, will provide attendees with valuable information and the expertise needed to implement Collaboration Tools.
Michael Chaney, the Senior Director of Cisco IT Vendor Management Services (VMS), part of Global Client Services will outline how you can leverage the tremendous opportunities sustainability affords your business.
Chris Hynes, Cisco's Senior Director of Network and Data Center Services will discuss Virtualization as a key strategy for significant financial savings in data center operations.
Awards Ceremony honors minority IT leaders
On Friday, February 12, 2010 from 5:30 – 9:30pm at The Fairmont San Jose, ITSMF and HITEC will recognize and celebrate excellence in IT and the power of diversity in business at the IT Executive Achievement Awards. The major sponsors for this year's events are Cisco and Hewlett-Packard.
This black-tie event is one of the industry's largest gatherings of African-American and Hispanic executives, and is a unique opportunity to network with the "Who's Who" in the IT industry from both the public and private sectors – including approximately 500 corporate, government and association executives and guests.
This event pays tribute to industry leaders who have made extraordinary contributions to the advancement of information technology, while simultaneously demonstrating proactive leadership in advancing diversity. This year's honorees are:
Ben Berry, CIO, State of Oregon and CEO, AirShip Technologies Group;
Dr. Sandra DeLoatch, Dean – School of Science and Technology, Norfolk State University;
Tom Hempfield, Vice President TSG Americas Federal Business Organization, Hewlett-Packard;
Janice Bryant Howroyd, Founder, Chairman and CEO, Act 1 Group;
Andre Hughes, Global Managing Director Accenture Cisco Business Group, Accenture;
Enrique Salem, President and Chief Executive Officer, Symantec.
This year's keynote speaker is Roland S. Martin, one of the 150 Most Influential African-Americans in the United States and the 2009 winner of the NAACP Image Award for Best Interview.
ITSMF/HITEC Silent Auction offered
How would you like to take flight in a hot air balloon, host a VIP suite at a Raiders game, be a part of an exotic car tour or take a vacation on the French Riviera while helping others reach their dreams? This year's Silent Auction, held before and during the Awards Ceremony, will benefit the Executive Protégé Program. To view and bid on auctions items, visit http://www.biddingforgood.com/itsmfonline.
For more information about attending these events, contact the ITSMF office.
About the Information Technology Senior Management Forum:
The Information Technology Senior Management Forum (ITSMF) is the only national organization dedicated exclusively to fostering senior-level executive talent among African-American IT professionals. ITSMF provides a supportive network for enhancing the leadership skills of the IT executives that make up the membership; and its formal mentoring program assists dedicated mid-level managers to grow into executive level positions. ITSMF draws its strength from two major sources: senior IT executives from corporations, governmental bodies, universities or owners of well established technology businesses, who share the knowledge and skills that have enabled them to arrive and thrive in key management roles; and the funding and expertise provided by our corporate partners interested in fostering and recruiting diverse executive talent. For more information about ITSMF, visit http://www.itsmfonline.org.
About the Hispanic Executive IT Council:
Hispanic IT Executive Council (HITEC) was founded by senior Hispanic IT executives who have built outstanding careers in information technology but realized that there were far too few Hispanics in the IT leadership role. With a strong desire and passion to make an impact within the Hispanic IT community by helping others reach the highest levels, HITEC was formed in late 2006. These national leaders include executives leading Fortune 500 corporations on both U.S. and global initiatives while others lead some of the largest Hispanic owned IT firms in the United States. The mission of HITEC is to be the premier professional organization for Hispanic IT Executives and to significantly increase Hispanic leadership in information technology, globally.
For more information about the HITEC organization, visit http://www.hitecglobal.org.
###