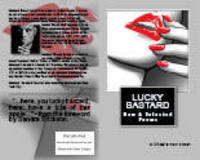 It was a nice journey, an interesting time, a healing process of the soul. I'm done.
(PRWEB) February 8, 2010
Michael Ernest Sweet has made two announcements this month. One, he is releasing a new self-published "little book of poetry and sketches" to his 'cult' following and, two, he is retreating from the world of poetry.
Lucky Bastard is a lightweight coming in at just 32 pages. The book contains a mere handful of new poems combined with some selected poems; some of which stretch back to Sweet's beginning as a poet. Intertwined in the book is a handful of simple, even agitated, line sketches reminiscent of Vonnegut or Bukowski, two of Sweet's self-confessed influences.
From the title poem, "Lucky Bastard", a remake of Rapunzel, where a daughter is taken captive by a camel smoking greaser to "Regret", a three line poem, the book is definitely a tour de force. Sweet plays with a new style in several poems too, such as "This is Bullshit" a poem about writer De Lillo where he injects directions to the readers such as (laugh) or (applause). Again, we see a definite new style in the piece titled "Love at the Computer" which consists of all 1's and 0's.
Dedicated to his partner a noted New York City poet, the book is sure to be the defining collection for Sweet as a poet, especially, given the fact that he has promised to stop writing poetry.
"I think I have said what I wanted to say in poetry. I have nothing more to say there. I have a lot to say in prose, I want to write short stories and essays and maybe, someday, a novel. But as far as poetry is concerned, I'm done. I'll leave the poetry to Matthew now. I like it that way." Said Sweet.
Vermont poet and potter Sandra Erickson write the foreword for the collection. Her remarks are brief also coming in at just one page. Erickson all but suggests that Sweet's departure from poetry is a publicity stunt. I guess time will tell.
Michael Ernest Sweet is the founder of the Learning for a Cause Student Press Initiative in Quebec and has edited and published a handful of student anthologies to much acclaim. Additionally, he has dozens of single poems published in journals throughout Canada and the US including such notables as English Journal and The Evergreen Review. His former published collections include Ab Ovo (2005), Dances With Love (2006) and Nude (2008). Despite the prolific output Sweet admits to being, ultimately, "an amateur" poet. Sweet says, "I have self-published all my books, although I like it that way, I like the process, I am not interested in chasing 'others' to print my books. Although, ultimately, it keeps me cemented in the 'amateur' category despite the traditionally publishing single poems. I'm ok with all this though. It is just the way I wanted it. It was a nice journey, an interesting time, a healing process of the soul. I'm done."
Lucky Bastard is expected to reach shelves of local Montreal stores in early March and should appear online at Amazon.com shortly thereafter.
###