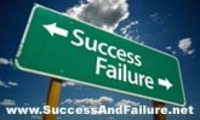 How to Deal With Success and Failure from a Christian Perspective.
Santa Ana, CA (PRWEB) February 9, 2010
http://www.SuccessAndFailure.net
New website focusing on the key elements of success and failure officially launches. http://www.SuccessAndFailure.net separates itself from other "how to succeed" sites and books in that it offers wisdom on how to deal with the ups and down in life, in business, in marriage, etc. from a Christian perspective. In addition, http://www.SuccessAndFailure.net offers interactivity with its blog allowing for exchange of thoughts and beliefs.
Having secured almost 30 Christian writers, http://www.SuccessAndFailure.net has already produced countless helpful articles that will help the average person cope with every day life issues, with powerful new articles and blogs being added each and every week.
Success Stories – visitors also have access to real life success stories of people in difficult situations that have overcome immense problems and come out on top victoriously.
Bible Insights – Many people, including Christians, are confused about the basic beliefs of Christianity and don't have an answer for many common questions; "What does it take to go to heaven?", "Are all religions the same?", "Why do bad things happen to good people?" and many, many more. http://www.SuccessAndFailure.net provides sound answers that are based on God's Word, the Bible. Since many of these topics are discussed in a blog format, the visitor has the opportunity to ask further questions or sound off with their opinion, offering true interactivity.
About http://www.SuccessAndFailure.net
SuccessAndFailure.net is a creation of Peter Grundner, a marketing professional of 25 years and owner of http://www.how2succeedOnline.net. "As a marketing professional with a widely read marketing training website, I have focused on helping people with their marketing challenges. This site focuses on the true keys to success in life. I've been blessed, so I want to give back by sharing the hope I have in the real source of wisdom that is in the Bible".
###