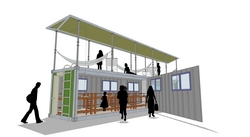 San Ramon, Costa Rica (PRWEB) February 23, 2010
ContainerHomes.net of Costa Rica is currently working with several NGOs to provide emergency shelter for displaced persons in Haiti. Tents have traditionally been used to provide temporary housing in times of disaster however Container Homes offer a safer and longer term and ultimately more economic solution. Container Homes are a new and more viable option for providing shelter and several NGOs are currently in discussion with ContainerHomes.net to use them as shelter in Haiti.
Container Homes are created by converting heavy gauge steel shipping containers found in most ports around the globe and provide the added benefit of recycling (older) containers. Shipping Container Homes are both hurricane and earthquake proof. They can withstand 145 mph winds with anchorage and 100 mph without. Container Homes can be used immediately as emergency shelter and converted into permanent homes or offices later.
ContainerHomes.net has a product that is 40 feet long and can house from twelve to twenty people in bunk beds. Each unit has a kitchen, bathroom, electricity, plumbing, windows and doors providing a more comfortable and dignified living space for displaced persons than tent shelters. Container Homes are also safer, more resistant to water and wind damage, and not prone to cracking or fracturing due to their mostly steel construction and ISO design resulting in lower maintenance costs and ultimately a more economical solution to providing shelter.
"We are very excited to offer our product to help the people of Haiti" said Jimmy Lee, President of ContainerHomes.net. "We have received numerous inquiries from various NGOs and believe Container Homes offer a solid solution in the long run for the victims in Haiti".
For more information contact:
Jimmy Lee
President, ContainerHomes.net
(506)8- 850-7805
http://www.containerhomes.net
###