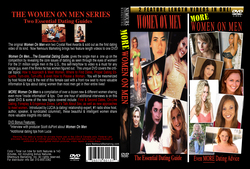 "The only Dating Video that comes with a Total Satisfaction money back guarantee!"
Hollywood, CA (PRWEB) February 8, 2010
Nemours Marketing, Inc. just ahead of Valentine's Day, is releasing its latest film: "MORE Women on Men…Two Essential Dating Guides" which gives single men a one up on the competition by revealing the core issues of dating as seen through eyes of experts…women! Geared towards the 31,000,000 single men in the U.S. (and millions more around the world), this "self-help / how to" style DVD is a must for any single guy, even if he thinks he has women figured out. The original 75 minute video was awarded two Crystal Reel Awards (BEST PICTURE & BEST CAST) and eventually sold out which spurred the brand new production and release of a follow up program.
Nemours Marketing is now releasing "MORE Women on Men" with an added feature program of 68 minutes covering brand new dating topics like texting, twittering and the many nuances of on-line dating in the new digital world now filled with internet social networks. Nemours is marketing the brand new DVD as containing two videos for one low price of under $20. Some of the topics covered in the first feature include: How to Approach and Meet Women, Where to Find Dates, Proper Dating Etiquette, Turn Ons, Turn Offs & How to Please a Woman! New topics found in the 2nd program include: First & Second Dates, On-Line Dating, Foreplay & Erogenous Zones, Let's Talk About Sex, as well as New Approaches to meet Women. The original "Women on Men" is hosted by Nicole Katz (who has hosted many programs on the east coast including several shows taped at Universal Studios Florida) and "MORE Women on Men" is hosted by Lucia (who hosts "The Art of Love" on L.A. Talk Radio, is the author of "Lucia's Lessons of Love", and is a dating-relationship expert who has appeared on over 100 TV and radio shows).
This two program DVD is being distributed by The Johnson Smith Company in their catalogs and is also available for purchase at http://www.FilmBaby.com and http://www.TheArtofLove.net. Nemours Marketing is a 13 year old film production & distribution company (with offices in Orlando and LA) focusing on topics of current interest including: What is the Electric Car? (now in production) which will be released summer of 2010 just before the big auto makers start unveiling electric cars in showrooms. For Distributor inquiries on this latest title: "MORE Women on Men", contact Nemours Marketing at 407-738-1608.
###