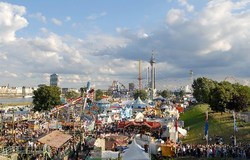 Largest Fair on the Rhine
Düsseldorf, Germany (Vocus) February 9, 2010
The largest fair on the Rhine, which has more daily visitors than Munich's Oktoberfest, is the setting for a rare example of a tradition: For 20 years now, the first Monday (2010 date: July 19) of the 9-day fair belongs to the GLBT community, a wild affair that turns the fairgrounds pink and gets more popular every year.
What does Pink Monday look like? Picture Oktoberfest with beer tents and treats, a temporary amusement park with huge and modern rides that rival those at Six Flags along with the families and regular people you'd find there, then add 50,000 homosexuals on a mission to have a good time. Loud and unruly? You bet, and it's a blast. An old tradition as much as a glimpse of the future: everyone relaxes and just gets along.
There's no resistance to the wave of gayness that rolls over the fairgrounds come Monday: Vendors and visitors gladly surrender and come prepared: The tents and booths, equipped for a week of family-friendly entertainment, are dressed up with pink balloons and rainbow flags. Many visitors wear pink or show up in drag, and the campy vibe mixes with modern-day tolerance and becomes just pure fun. One of the beer tents turns into a performance space, and the glamour and good energy spill out from there over the entire fair and on to the rest of the city. It's a party that extends to the local nightlife and continues there into the wee hours. Many of the 50,000 gays and lesbians are from the local Rhine-Ruhr region, and the number of international visitors grows every year.
More interesting facts about this event: The "Largest Fair on the Rhine" (yes, that's the official name, or "Rheinkirmes" in German) has been around for 500 years (that's 300 more than Munich's Oktoberfest) and takes place every third week in July (2010 dates: July 17-25). The total number of visitors is more than 4 million, and 45,000 visit Düsseldorf daily during regular fair days – that's 6,000 more than Oktoberfest. Many who come here take advantage of the short distances to other destinations including the Rhine-Ruhr area, Cologne, Belgium, the Netherlands, all in easy reach from Düsseldorf.
Düsseldorf is only minutes away from Cologne, the site of the 2010 Gay Games, which begin later that month, July 31.
Düsseldorf International Airport, Germany's third largest, offers several non-stop flights from US & Canadian cities (Atlanta, Chicago, Ft. Myers, Los Angeles, Miami, New York, Newark, Toronto, San Francisco, Vancouver), as well as convenient connections to many European cities and beyond. Find fair week specials for hotels and air fares at http://www.visitduesseldorf.de and http://www.fly2dus.com
For more information about Pink Monday, the Fair, and Düsseldorf , please contact: Rainer Perry, 934 8th Avenue 2b, New York, NY 10019, phone: 212 957 6653, fax: 646 419 4070.
Düsseldorf Tourism & Marketing GmbH is the visitors and convention bureau of the city of Düsseldorf. Its responsibilities include tourism and city marketing, as well as conference and meeting marketing, hotel reservation services, fairs and convention services, city event ticket sales and advance ticket reservations. For more information visit http://www.duesseldorf-tourismus.de; http://www.visitduesseldorf.de; http://www. fly2dus.com
###