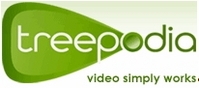 In just two months after we began using Treepodia's automated online product video platform our e-commerce sales rose 69%, thanks to the professional quality of the videos and expertise offered by the Treepodia team
BOSTON, MA (PRWEB) February 8, 2010
Treepodia, an early market leader in automated online product video technology and services, announced today significant growth in its customer base, which now includes 50 e-commerce, hospitality and other online businesses, worldwide. Momentum behind the company's automated online video solution continues to grow as customers from all corners of the globe choose Treepodia's Smart Video Platform to quickly generate more sales, increase customer loyalty, and enhance the customer experience on their sites.
"At an increasing rate, e-commerce and other types of businesses are realizing that they absolutely need videos on their website in order to remain competitive in today's global market," said Dr. Melody King, vice president of marketing for Treepodia. "But at the same time, they're also learning that using traditional, high-production approaches to creating videos can be a time-consuming and expensive endeavor.
"We're excited that more businesses are turning to our Smart Video Platform as an efficient, affordable way to build an entire video catalog. In addition, more businesses are choosing our system for its powerful A/B testing tools, which ensure they're achieving maximum ROI from their online videos," she said.
Fast, Affordable Video Creation, SEO, and Beyond
From New York-based retailer BedBathStore.com to Germany's Reisenthel, businesses worldwide are choosing Treepodia's Smart Video Platform as a fast, affordable way to create effective online videos.
Treepodia's Smart Video Platform eliminates the high initiation costs of video production by allowing customers to use their existing images and other types of marketing content to create engaging videos. Within 24 hours, customers can create an entire product video catalog which can be updated on a continual basis to reflect new prices, special offers and more.
Customers can also upload their Treepodia-generated videos to social media and video sharing websites, making the Smart Video Platform a fast and easy way for businesses to boost their natural search visibility. Additionally, Treepodia's Smart Video Platform takes video to a new level with its built-in A/B testing mechanism, which tests the effectiveness of each video version and automatically promotes top-performers to ensure the highest conversion rate and ROI.
Treepodia's platform also allows for the creation of Smart Banners, which showcase top-performing product videos in banner format. Smart Banners can appear on any web page including a home page, affiliate sites and social networks to increase their viewership. Smart Banner videos are shown in rotating fashion each time a visitor comes to the site, and the system tracks click-throughs and eventually determines the top performers.
What Customers Are Saying about Treepodia's Smart Video Platform
"In just two months after we began using Treepodia's automated online product video platform our e-commerce sales rose 69%, thanks to the professional quality of the videos and expertise offered by the Treepodia team," said Mike Reichman, COO of BedBathStore.com. "In addition, customer conversion was up as much as 300% among those who viewed the product videos."
By making their product videos available on YouTube.com and other video on demand websites, BedBathStore.com has also seen a dramatic increase in natural search traffic coming to its site. "The video sharing sites like YouTube, Google Video and others drive more traffic to our site -- but we also capture more traffic because the videos help our product listings rank higher in natural web searches. Overall, our use of Treepodia is a win-win for our customers and for our business," said Reichman.
Before UK electronics retailer Electric Shopping began working with Treepodia, the company relied on an in-house team to produce and upload product videos, an approach CEO Rob Levy and his team found to be expensive, labor-intensive, and slow going. "With Treepodia, those issues completely went away, as we were able to have videos created and uploaded for many products on their site quickly, and in a highly cost-effective manner. Additionally, Treepodia's automated A/B testing capabilities allow us to track how many times someone looks at a particular product page, whether they viewed the video, and whether they purchased. We definitely see a higher conversion rate among those visitors who watch the videos," Levy said.
The Treepodia Smart Video Platform works on a cost per view model, without production fees or contract terms, and provides a guaranteed four-fold ROI.
About Treepodia, Ltd.
Treepodia is the leading video platform provider for online retailers. Founded in 2007 by knowledgeable and experienced e-commerce professionals, the Treepodia Smart Video Platform enables online merchants to cover their entire product catalog with effective and engaging video content in just 24 hours. Treepodia offers a unique cost per view model with ROI guaranteed. The company has 50 clients worldwide, including Ice.com, OnlineGolf, Atylia, EyeBuyDirect, Emjoi, BedBathStore and more.